IF the voices of the 9.67 million eligible voters across the six states who went out to cast their ballots yesterday (Aug 12) were to be summed up, then whether the truth hurts or otherwise, the real winner by virtues of numbers is none other than the opposition Perikatan Nasional (PN).
Here are 10 realities picked up from outcome of yesterday's (Aug12) state elections in Selangor, Penang, Negri Sembilan, Kedah, Kelantan and Terengganu:
Perikatan Nasional (PN) won big in Terengganu, Kedah and Kelantan as well as successfully making ds into Selangor, Penang and Ngeri Sembilan. PN won a staggering 146 seats compared to 99 for Pakatan Harapan-Barisan Nasional's (PH-BN). Given that it contested in all 245 state seats, PN achieved a praiseworthy 60% success rate.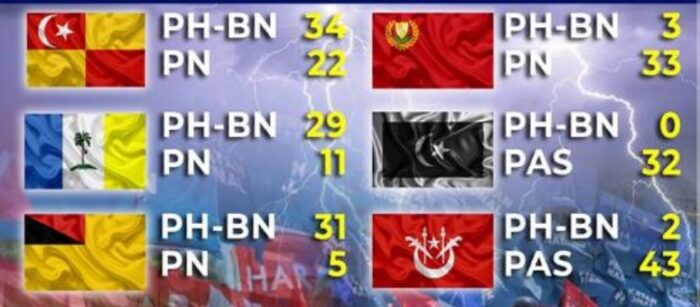 2. The PH-BN alliance retains its dominance in Selangor, Penang and Negri Sembilan but with smaller victories except in Negri Sembilan. In fact, PN made impactful penetration into Selangor by winning 22 seats against PH-BN's 34 (from only five previously), thus preventing a two-third majority gain by the state's ruling coalition. PN.
3. Barisan Nasional (BN), in particular UMNO, continues to be rejected by voters. Out of the 108 seats competed, it only won 19 or 17.6%, thus piling more misery for the party which boasts to represent majority of the Malay-Muslim/Bumiputera community in Malaysia.
4. The goal or rather good intention of PH especially that of its chairman Datuk Seri Anwar Ibrahim to make UMNO a Malay component in the unity government needs to be re-considered. In fact, UMNO needs to do self-reflection if its president Datuk Seri Ahmad Zahid Hamidi should bear responsibility of the party's beyond pathetic performance.
5. The Malays are still unsure of the sincerity and ability of UMNO to improve its leadership. "This is a large-scale referendum demonstrated by not only the Malays who are the majority but also some non-Malays," PN chairman and Bersatu president Tan Sri Muhyiddin Yassin told a media conference in the wee hours of this morning (Aug 13).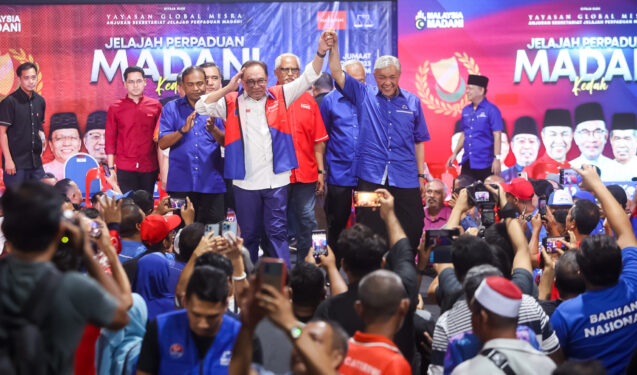 6. Negri Sembilan is the only saving grace for UMNO with the PH-BN alliance overwhelmingly toppled its PN opponent with a 31-5 margin.
7. The success of PN, especially PAS, in making breakthrough through developed states Selangor and Penang is nothing short of extraordinary. The green wave effect is felt in mainland Penang with PN having emerged victorious in 11 of the 15 Malay majority seats that it contested.
8. PAS and DAP once again repeated their achievement in last November's 15th General Election (GE15) as the most successful component parties of PN and PH-BN respectively. Early reports claimed that the party contested 47 seats and won 46, thus giving DAP a 97.8% success rate.
9. Despite having to eat humble pie and in a sombre mood, BN chairman Zahid who was instrumental in pushing for the GE15 to be held eight months or so earlier has reacted to the outcome of the sis state polls by saying that the mandate given to parties in the unity government will be the catalyst for the coalition to enhance cooperation and fulfill its five- year term of office.
10. Prime Minister Anwar Ibrahim in his initial reaction has reportedly said that the central government will continue to remain strong. – Aug 13, 2023
Main pic credit: HarakahDaily