VETERAN journalist and blogger Datuk A. Kadir Jasin seems to have a differing opinion from Johor ruler Sultan Ibrahim Sultan Iskandar who feels that Prime Minister (PM) Datuk Seri Anwar Ibrahim deserves to be accorded more time improve the sluggish state of the Malaysian economy.
Kadir reckoned that the period is long enough to measure the effectiveness of economic policies rolled out by the unity government given global standards tends to measure a country's economic and corporate performance on a quarterly (three months) basis.
"Hence, nine months is long enough (in economic rating term)," penned the former Bersatu supreme council member who now claims to be backing the Pakatan Harapan (PH) coalition in a recent Facebook (FB) posting.
"In this case, a strong, efficient and reliable national leadership is decisive. The unity government has been in power for nine months."
On the contrary, Sultan Ibrahim opined that Anwar who is also the Finance Minister should be given more time to improve the country's economy as he recognises the financial challenges facing Anwar's administration which only took office last November.
"Anwar only came to realise the government's financial distress after taking office. I believe he needs more time," the Johor ruler told Sin Chew Daily in an interview yesterday (Aug 27).
Interestingly, Kadir in his latest FB post has seemingly up his ante on the unity government to prove it's worth insofar as 'repairing' the Malaysian economy is concerned.

He also voiced concern that – instead of stemming the rot – the overall economic growth forecast on Malaysia has become increasingly negative.
"Most recently, the International Monetary Fund (IMF) predicts that Malaysia's economic growth will moderate to 4.5% this year or half of last year's 8.7% growth. It expects inflation to remain elevated at a rate of 3.3%," justified the former editor-in-chief of the mainstream New Straits Times.
"Inflation can go down by itself if economic growth is weak because when the economy declines, consumer demand will decrease and this will reduce pressure on the prices of goods and services. It can even turn into a bad deflation for the economy of any country as well."
Kadir further argued: "While we acknowledge external influences on our economy, the absolute and ultimate responsibility rests on the shoulders of the government."
To a feedback from netizen Ma Hussin Musa who defended Anwar by claiming that the "chronic damage" inflicted on the Malaysian economy is that of "UMNO's 60 years doing, Tun M (22 years and 22 months), Najib (10 years) and PN (three years)", Kadir countered:
"You're over-simplifying and bias. Don't tell me that there was nothing good from all those 60 years? The current PM was for 16 years part of the UMNO government."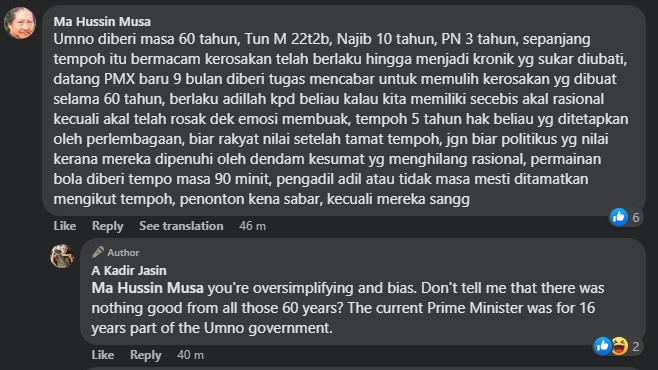 In fact, Kadir's 'running out of patience' view with the poor state of the Malaysian economy with even the ringgit having depreciated substantially against the greenback and Singapore dollar in recent times, has found support in netizen Tony George:
"The very policies he implemented years ago are now biting his backside! We'll wait for Mr Madani to prove his salt …" quipped the netizen.
In response, Kadir added: "During his time in UMNO and the government, he led (or claimed to lead) the so-called Islamic and the Malay agenda." – Aug 28, 2023