THE artist of the kolam vandalised at the KPJ Klang Specialist Hospital has called for calm as the authorities were already investigating the matter.
Expressing his gratitude to Malaysians for their outpouring of support and condemnation of the incident, Nathan De Romeo took to Facebook to urge Malaysians to let the incident go and "not make the issue viral anymore".
"Hi everyone, this is Nathan. I am the creator of the viral Deepavali kolam at KPJ Klang and I am one of the staff there too," he wrote on Facebook.
"First and foremost, I would like to thank every one of you who spoke up on this kolam issue regardless of religion and race. For your kind information, our hospital management and higher authority have taken appropriate action on the irresponsible behaviour of the related staff.
"Therefore, I kindly request you guys NOT to make the issue viral anymore. Let us stay united and peacefully in this multiracial country. Thank you once again. Love and peace to all Malaysians."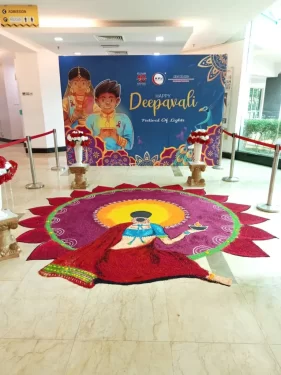 A videoclip that recently went viral showed a man clad in "baju Melayu" and songkok deliberately walking all over and destroying a kolam made in conjunction with Deepavali. In the clip, a separate person who took the video can be heard uttering the word "vandalism".
In a statement yesterday (Oct 31) KPJ Healthcare Berhad apologised to all Malaysians particularly to the Indian community over the incident on the firm's premises, said it did not condone such acts of vandalism, which was also not any reflection of the service provider's culture, values or its practices.
The company then said it has lodged a police report on the matter and launched an internal investigation against both the suspended employees — the vandal and the other suspected of recording the video footage.
Police earlier confirmed the duo went voluntarily to the district police headquarters to have their statements recorded at about 11pm yesterday.
They were subsequently arrested.
Both have been remanded for three days for investigation under Section 298A of the Penal Code for causing disharmony, disunity, or feelings of enmity, hatred or ill-will, or prejudicing the maintenance of harmony or unity, on grounds of religion.
The kolam is a regular feature in Indian households during auspicious celebrations and it is also to welcome Lakshmi, the Hindu goddess of wealth. – Nov 1, 2022
Main pic credit: Video screengrab