AFTER enduring physically draining quarter- and semi-finals at the Perodua Malaysia Masters 2023, top national women's pair of Pearly Tan-Thinaah Muralitharan has a mountain to climb en route to be crowned champions today.
Playing at a blistering pace of 93 minutes to emerge triumphant against the fifth-seeded South Korean Jeong Na Eun and Kim Hye Jeong in straight games 21-19, 23-21 yesterday (May 27), the sixth-seeded Pearly-Thimaah faces the ultimate test of endurance when they face another South Korean pair in world No. 6 Baek Ha Nna-Lee So Hee for the title.
Baek-Lee had earlier defeated seventh-seeded Japanese pair of Mayu Matsumoto and Wakana Nagahara 21-19, 21-14 in a match that lasted 63 minutes.
As Malaysian fans at the Axiata Arena in Bukit Jalil were anticipating a rubber set, Pearly-Thinaah gallantly fought back from 2-12 down in the second game to stun Jeong-Kim – precisely in the similar fashion the duo outclassed Japan's world No. 9 Yuki Fukushima-Sayaka Hirota 13-21, 21-19, 21-16 in a match lasting 111 minutes on Friday (May 26).
Recall that the 211 shots recorded by the world No. 11 when they were leading 16-14 in the rubber game against Japan's Rena Miyaura-Ayako Sakuramoto in the second-round match could be the longest-ever rally in competitive badminton. Pearly-Thinaah ended up clinching a 21-17, 18-21, 21-19 victory in the yet another pulsating affair.
If they are able to cope with the extreme exhaustion, the Malaysian pair who have showcased delightful tactics and skills could be eyeing for their third Badminton World Federation (BWF) World Tour titles after the Swiss Open (in 2021) and the French Open title in October last year.
The Alor Setar-born Pearly and Klang-born Thinaah will be joined in today's finals by unheralded men's doubles pair of Man Wei Chong-Tee Kai Wun who made it a double joy after they sent eighth-seeded Indonesian pair of Leo Rolly Carnando and Daniel Marthin packing in straight sets of 21-17 and 22-20 over 46 minutes.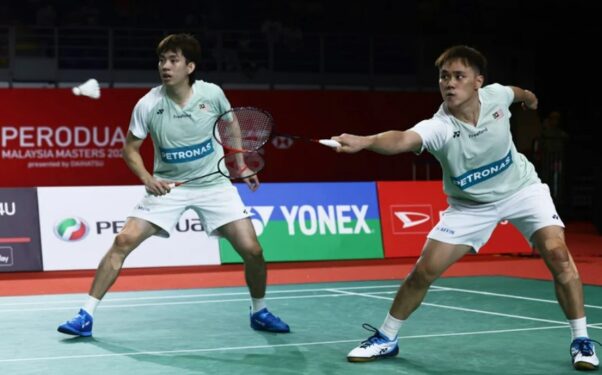 This was a sweet revenge for Malaysia as Carnando-Marthin had earlier inflicted a defeat on top national pair of Aaron Chia-Soh Wooi Yik in the quarters by a scoreline of 21-18, 21-19 in the quarter-finals.
Whether Man-Tee's fairy tale run will continue after a clinical finish against "The Daddies" Mohammad Ahsan and Hendra Setiawan on Friday (May 26) where they prevailed as victors 23-21, 21-17 will be determined by their ability to break down yet another South Korean pair of Kang Min Hyuk-Seo Seung Jae.
Not only is this a memorable feat to tame Indonesia's three-time world champions to reach their first ever World Tour Super 500 finals, Man-Tee would be able to avenge the defeat of independent pair Ong Yew Sin-Teo Ee Yi who went down fighting 21-15, 16-21, 14-21 to the South Koreans in the quarters. – May 28, 2023
Pics credit: Bernama