FROM the organisers of the popular pet bazaar at Desa Parkcity, OH MY PET! EXPO 2022 promises a "unique lifestyle experience" for pet owners!
OH MY PET! EXPO 2022 will feature over 250 local and international pet brands in all three exhibition halls at Mid Valley Exhibition Centre, Kuala Lumpur, while over 25,000 visitors are expected to attend.
Pet owners are invited to bring along their pets to enjoy a fun-filled weekend of activities and games, featuring a wide variety of pet brands – all under one roof.
OH MY PET! EXPO 2022 is specially organised to meet the needs of the ever-growing pet community.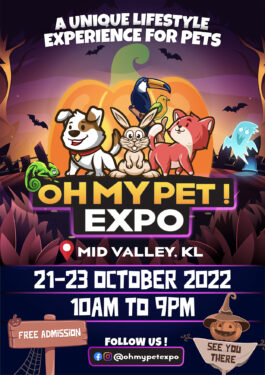 Highlights of OH MY PET! EXPO 2022 includes:
Oh My Meow Cat Show by Kelab Meow United
The 7th International Grooming Certification
Meet-N-Greet with Malaysia's Cat King "Johan&HisCats"
Special appearances by Malaysian pet influencers
All that, plus great discounts and offers from your favourite pet brands!
Also, discover the latest trends in the pet industry as brand owners showcase their latest products and services, all with a vision to improve the "quality of life" for pets in Malaysia.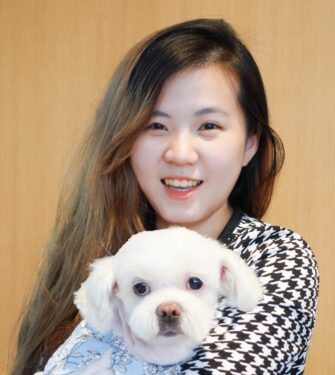 "OH MY PET! EXPO is the perfect opportunity for Malaysian pet lovers to discover the latest product and trends in the pet industry," said OH MY PET! EXPO 2022 organiser Jaice Tan.
As a pet owner, Tan said she is always looking for ways to improve the "quality of life" for her pets.
"The expo is also a great platform for pet businesses to showcase the latest products and innovations to the growing Malaysian pet community," she added.
OH MY PET! EXPO 2022 is happening from 10am to 9pm, next Friday to Sunday (Oct 21 to 23) at the Mid Valley Exhibition Centre. Entrance is free!
However, there are a few rules and guidelines to follow, so do read up first before heading over:
Pets are only allowed in the exhibition hall. Pets are strictly not allowed in other areas of Mid Valley Megamall.
Observe signs in the exhibition hall, keep your pets away from carpeted areas and only walk your pets on designated paths (pet walkways).
Keep your pets on a leash or in a pet-friendly enclosure such as pet strollers, pet bags or pet carriers while in the exhibition center.
Do not let your pet(s) wander around the exhibition hall unleashed or unsupervised to prevent injury to your pet(s) and others.
Avoid entering and exiting Mid Valley Megamall using the main shopping mall entrance with your pets. Instead, use the carpark mall entrance at Level 3A in parking zones A, C, G and H.

For large breed dogs, use Loading Bay Dock L for drop-off.

Pets are required to be fully covered in a stroller or carrier (breathable condition) whenever in the mall.
Do not use the shopping mall trolley to transport your pets.
Pet owners must be responsible for cleaning up after their own pets. Please bring your own cleaning materials and immediately clean up and dispose of pet waste.

Observe signs and use only designated pet bins and pet toilets.

Pets in the exhibition hall must be in good health, have up-to-date vaccinations and be free from parasites.
For inquiries and other updates, visit OH MY PET! EXPO's Facebook and Instagram pages. – Oct 15, 2022