STEEL products manufacturer and trader Leform Bhd has entered into an underwriting agreement with MIDF Amanah Investment Bank Berhad (MIDF Investment) ahead of the former's initial public offering (IPO) on Bursa Malaysia Securities Bhd's ACE Market.
Under the underwriting agreement, MIDF Investment will act as the sole underwriter, principal adviser, sponsor and sole placement agent for the IPO exercise, which is scheduled to be listed on the ACE Market by November 2022.
Leform's IPO exercise encompasses a public issuance of 311.0 mil new shares (representing 21% of its enlarged share capital) and an offer for sale of 74.1 mil existing shares (representing 5% of the enlarged shares by way of private placement to identified institutional and/or selected investors).
Of the 311.0 mil new shares, 74.1 mil will be made available to the Malaysian public via balloting; 29.6 mil shares to its eligible directors, employees and persons who have contributed to the success of the group (pink form allocations) and 22.2 mil shares by way of private placement to selected investors.
The remaining portion of 185.1 mil shares is reserved for Bumiputera investors approved by the International Trade and Industry Ministry (MITI), which will be done via private placement as well.
Commenting on the signing of the underwriting agreement, Leform Bhd managing director Law Kok Thye said his group is pleased with the development as it symbolises a step closer to its imminent debut on the ACE Market of Bursa Securities.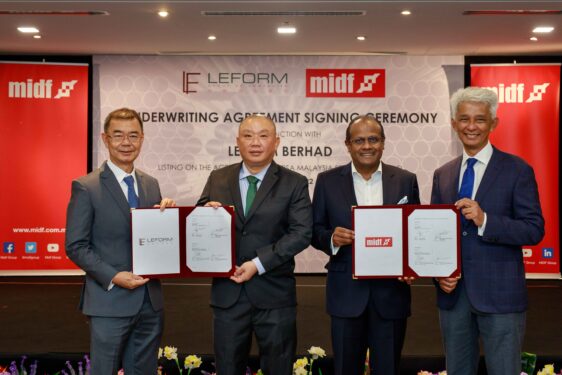 "This IPO exercise will expedite our expansion plans and allow us to tap into the equity capital market, granting us better financial flexibility to capitalise on future growth opportunities as they arise," he said in a statement today.
He also noted that demand for steel products – set against the backdrop of the prospects of the construction industry in light of emerging infrastructure and housing projects, Government initiatives to drive demand for residential properties as well as rising demand for automotive vehicles and locally manufactured furniture – is expected to be stimulated alongside the growth of end-user industries.
"Therefore, we have strategised initiatives to construct new facilities to cater to the anticipated increase in orders for steel pipes and flat steel products.
"The expansion of our storage space capacity, for example, will enable us to operate our machinery more efficiently."
"Utilise IPO proceeds to improve working capital"
Law added that Leform will utilise a portion of the IPO proceeds to improve its working capital, which will equip the group with the ready capacity to scale up its operations and production output, solidifying its stature in the steel industry in turn.
Similarly, MIDF Investment CEO Datuk Dominic Silva said his group is delighted to be part of this notable milestone in Leform's corporate journey, adding that the listing status sought will certainly elevate Leform's credentials and reputation.
"Now, as Leform forges ahead, we look forward to working together with the team from Leform – to grow the company from strength to strength as a player in the steel industry."
Leform and its subsidiaries are principally involved in the manufacturing and trading of steel products, particularly steel pipes, guardrails and flat steel products.
Supported by the group's wide range of steel product offerings, Leform's products are catered to various end-user industries, comprising the furniture, construction and industrial product manufacturing industries. The last group also includes automotive parts and telecommunication tower pole part manufacturing.
Besides its primary market in Malaysia, the group also exports its products to international markets such as New Zealand, Singapore and Cambodia.
MIDF Investment, on the other hand, is a wholly-owned subsidiary of the Malaysian Industrial Development Finance, which, in turn, is wholly owned by national investment trust company Permodalan Nasional (PNB).
MIDF Investment provides a wide range of investment banking services, including debt capital market (Islamic securities), corporate finance, underwriting of equities, treasury activities and equity broking services. – Sept 22, 2022