SERIOUS action must be taken against parties responsible following revelation by the Auditor-General's (AG) report that 93 out of 136 (68%) of ventilators supplied by Pharmaniaga Logistics, a unit of Pharmaniaga Bhd, to the Health Ministry (MOH) facilities between 2020 and April 2022 could not be used.
DAP Bandar Kuching MP Dr Kelvin Yii berated that such negligence not only caused wastage of public funds but also compromised on the quality care of patients which would result in loss of precious lives as the incident occurred at the peak of the COVID-19 pandemic period when such life-saving equipment were so vital.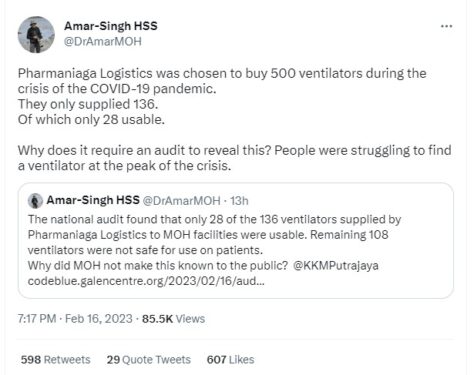 Based on the AG report, Pharmaniaga Logistics was chosen to buy 500 ventilators during the health crisis. However, the company only managed to supply 136 ventilators and out of that, only 28 were usable with the remaining 108 ventilators declared unsafe for use on patients.
"This means the company supplied less than 6% of its order (28 ventilators) during a time of crisis which at its peak saw healthcare workers struggling to find such life-saving equipment," lamented Yii who is also the DAP Youth (DAPSY) chief.
"This caused not only an estimated loss of RM13.07 mil of precious funds but more importantly, contributed directly to possible loss of lives that could have easily been avoided if healthcare workers had the required medical equipment during that period of time."
Yii further questioned the absence of proper documentation for the procurement of the ventilators given that the exercise involved millions of ringgit of public funds even though the reasoning given was that it was an "emergency procurement".
"Wouldn't that have given better legal protection for the MOH and the different parties that are involved against liability or incidents such as this?" he asked. "That is why I believe the different parties that are involved have to answer and be held accountable while ensuring that this matter is not taken lightly or swept under the carpet."
In the same AG report, it was outlined that the government could not claim for the losses from the 93 defective ventilators estimated by the national audit to be RM13.07 mil "because there were no documents on the appointment of the procurement of ventilators between the company and MOH".
"If proven there are elements of negligence, action has to be taken and the ones responsible must be held accountable as such actions would have also directly jeopardised the quality of care of patients especially during the pandemic," he added. – Feb 17, 202