DURING the Chinese New Year (CNY) celebrations, PAS Tan Sri Abdul Hadi Awang went out of his way to appease the Chinese community; now it is up to the Islamist party's Kedah wing to woo the Indian community with promises of a public holiday in Kedah.
However, many believe this sudden change of heart by the PAS towards the non-Malay community is another electoral ploy.
The aim, said netizens who are in shock at this sudden turn of events, is to garner more Chinese and Indian votes for the PAS and the Perikatan Nasional (PN) in the upcoming state elections in Selangor, Kedah, Kelantan, Negeri Sembilan, and Penang.
On Sunday (Jan 22), Hadi showed that he had softened his hardline approach during the CNY, claiming in a Facebook post that he has many "adopted" uncles and siblings from the Chinese community, adding that the Chinese are not strangers in his life.
His recent softened approach towards non-Muslims raises concerns after he publicly blamed them for being the primary cause of corruption in Malaysia last year.
Kedah state PAS Youth leader who is also he PN MP for Padang Terap in the 2022 general election Nurul Amin Hamid, raised the possibility of a PN-PAS victory in Selangor in a tweet.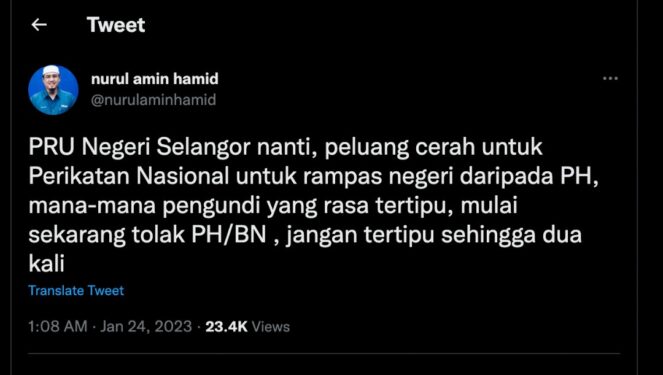 (Next Selangor state election offers a bright opportunity for PN to seize the state from PH, any voter who feels deceived, from now on reject PH/BN, don't be deceived twice.)
Since the start of the year, PAS, in particular, has put immense pressure on PH, and in particular on Parti Keadilan Rakyat (PKR), the party of Prime Minister Datuk Seri Anwar Ibrahim.
It appears that PAS is playing the cards of suspicion among Barisan Nasional (BN) and PH members, using the old adage "No Anwar, No DAP" to confuse the supporters of both coalitions.
PAS is also attempting to use "court cluster" imagery in an attempt to sway more PH supporters, who may be disgruntled with the PH-BN alliance, to vote for PN.
However, it also appears that the recent storm of attacks against the PAS for supporting the idea that electoral bribes are 'charity' will not play in their favour on their so-called anti-corruption drive.
Some netizens are fighting back against the attempts by the PAS to dirty the image of the state of Selangor.
User @jungledweller1 said:

(If you feel burdened by the cost of goods, the Selangor government has a initiative. One chicken for RM10. If I'm not mistaken, fish, vegetable, and cooking oil is available. Incredible that these items can be bought cheaply.)
Some reminded Nurul Hamid that during the 33 months of PN rule, the country suffered greatly, with some goods unavailable while other products of necessity being too expensive.
Nevertheless, user @thefikrey chimed in: 

(It's crazy to reject PH in Selangor as a whole since @AmirudinShari took over, more help and initiatives for the people.
(The state is getting more advanced, the reserves are even higher since 2012. So why do you want to vote for PN? Who is the most advanced in between Kelantan, Terengganu, Kedah VS Selangor, Penang, and Negeri Sembilan?) — Jan 24, 2023