MEMBERS of the local non-fungible tokens (NFT) community who had raised issues with DAP's sale of RM1.3 mil in NFTs for the party's general election campaign fund are satisfied with the explanations provided by MP Tony Pua.
Following a dialogue between them and the Langkah Sheraton NFT team on Friday afternoon (Sept 9), group spokesperson @pedagang_eth said they were convinced that it was not a scam or fraud – although the method employed was "rather odd".
NFTs are cryptographic assets on a blockchain which is associated with a particular digital or physical asset.
The ownership of an NFT is recorded in the blockchain and can be transferred by the owner, allowing NFTs to be sold and traded.
@pedagang_eth, a self-described NFT entrepreneur on Twitter, previously raised concerns about little or no funds being raised on the blockchain itself and that funds were essentially cycled from wallet to wallet to "create the illusion" of a sale.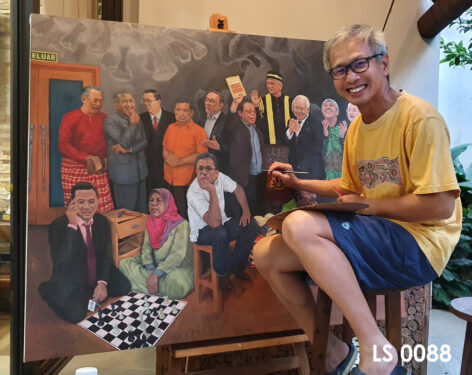 According to @pedagang_eth, Pua confirmed that most of the transactions were done offline (off-chain), with buyers banking in fiat through cash and communications done through WhatsApp.
The community was also shown bank records that "seemed legit".
Pua added that crypto on-ramp was a huge challenge and that it was a tough sell even to his party's own MPs, confirming once more what @pedagang_eth had speculated.
The Damansara MP further confirmed that 94 of the 148 wallet holders belong to the project owner; they were bought or minted on behalf of the buyers.
Some funders also had no interest in creating crypto wallets and Pua had planned to teach them how to install Met4mask and show them the NFT in their wallet later.
"Save time"
As for the funds being cycled from wallet to wallet to create the illusion of a sale, Pua said this was done to save time buying MATIC (the token that powers blockchain networks) in bulk.
Asked why the party raised money through NFTs when it was done manually or off-chain, Pua said he wanted to try something "new and innovative".
@pedagang_eth recommended that future on-chain transactions are better managed to avoid "unwanted" misinterpretations.
He also reiterated his previous suggestion for the 8,888 NFTs to be minted and airdropped to every wallet since payment was in fiat. He said this would have been "cleaner and attracted fewer questions".
He also recommended engaging the community for advice, saying the community has "pros" in the industry and it is worth speaking to them for input.
Meanwhile, in a Facebook post, Pua admitted that the approach taken was "unconventional" as his team helped many of the purchasers set up their Metamask wallets and minted their NFTs on their behalf before handing the wallets back to the purchasers (with the NFTs in the wallets).
"In my humble opinion, it is a little ironic because NFTs/crypto cheerleaders are proud of being 'unconventional', vis-a-vis all things traditional and fiat," he said. 
"I too should be proud of being 'unconventional' at breaking new grounds and challenging new frontiers, as long as everything is above board."
The Langkah Sheraton oil-on-canvas painting depicts a number of notable political personalities who made headlines leading up to, during and after the Pakatan Harapan Government fell in 2020.
For the NFT fundraiser, the painting was divided into squares and individually sold. They are still available for trade on Opensea.io. – Sept 11, 2022
Main photo credit: @pedagang_eth's Twitter