PAS Kapar MP Dr Halimah Ali has failed to learn her lesson from the unsavoury remarks she made in February this year by linking consumption of Menu Rahmah meals to health conditions such as cancer and autism.
This time around, she courted another controversy by having uploaded a poster on her Twitter page with a photo of German genocide leader Adolf Hitler with a quote from the dictator which she cheekily gave a one-word caption: "Familiar⁉️😷"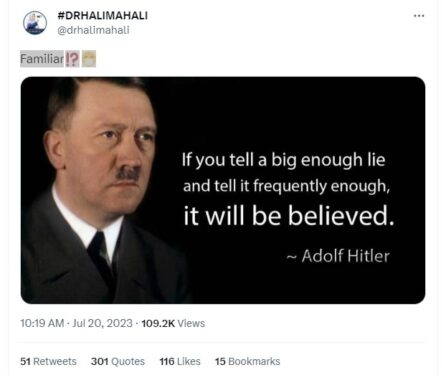 While it is clear that her post in intended as a jibe at her party's opponents, the Sarawak-born medical practitioner has failed to realise that she is indulging in the wrong narrative. It is not appropriate – especially for a Muslim MP who represent an Islamist party – to cite any Nazi leader whether Hitler or even Joseph Goebbels who was the chief propagandist and Hitler's closest and most devoted acolyte.
Although there is no concrete evidence that either Hitler or Goebbels would have crafted the quote – "If you tell a big enough lie and tell it frequently enough, it will be believed" – it is unimaginable a woman leader in PAS would go out of convention to display the photo of a genocidal leader alongside the said quote.
"Why do you have to use words from a true infidel? Why don't you use Quranic verses or prophetic hadith instead," chastised netizen AM_SAL (@ams1610) while Nad (@noreennadia_) remarked: "Damn are you proud that you're quoting Hitler? This is scary TBH (to be honest)".

Netizen jungledweller (@jungledweller1) wondered if Dr Halimah was directing the quote to her party president Tan Sri Hadi Awang.
"Do you know who Hitler actually is? He is even worse than Chin Peng whom you guts (PAS members) regarded as DAP's idol. So has Hitler become your idol, aunty?"

Little wonder that netizen mohd azmi mat junoh (@Azmi_Junoh) teasingly claimed that Dr Halimah was directing the quote to her own party.
"Look at the campaign narrative played by Perak PAS commissioner that Anwar (Prime Minister Datuk Seri Anwar Ibrahim) supports LGBT … Repeated many times until people believe it in an open campaign. When sued, quickly pleaded guilty and apologise  … Yes, what she said is true and refers to themselves."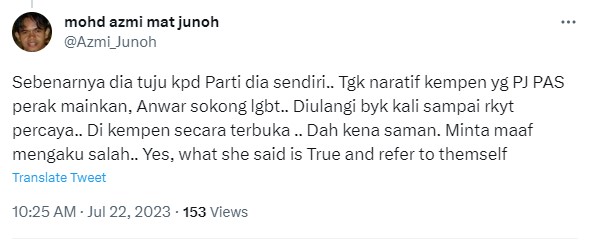 Netizen Adi Ikhwan (@adiikhwan_) who was surprised by the quote exclaimed: "Fuhh … PAS leader quoting Hitler huh? They are really great and holy. Supposedly this has come from the PH-BN (Pakatan Harapan-Barisan Nsional) leader, this, PAS MP would have trembled." – July 22, 2023