HERE is one politician, a former deputy minister of communications and multimedia who has decided to switch allegiance before he has even formally joined the political party he said he was joining.
After telling everyone he was joining PKR, Datuk Zahidi Zainul Abidin has now opted for Amanah. His reason is that this is a result of feedback from his supporters.
But Amanah deputy president Datuk Seri Salahuddin Ayub has clarified that thus far rumours of the former Padang Besar MP joining the party have only been made known through media reports.
"We've only heard about (Zahidi) through a media release, but we've yet to receive any official participation (in Amanah)," pro-Pakatan Harapan (PH) portal Pakatan Daily cited Salahuddin as saying after officiating the closing ceremony of the party's Tarbiah Rahmah Seminar (STAR) in Shah Alam yesterday (Feb 6).
Earlier, UMNO secretary-general Datuk Seri Ahmad Maslan has advised component parties in the unity government not to accept its former members who have been expelled or suspended in recent times.
Sacked from UMNO for contesting in the 15th General Election (GE15) as an independent after the party decided he was surplus to its requirements, Zahidi fared badly in his quest to defend his Padang Besar parliamentary seat, even losing his deposit in the process.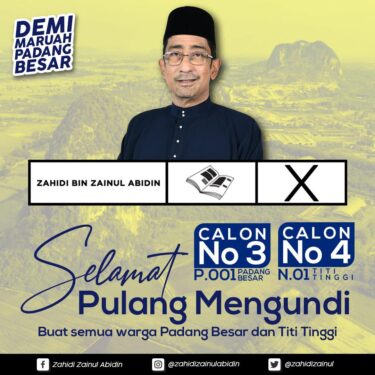 Even as the former supreme council member expects over 2,000 Padang Besar UMNO members to be joining him in his Pakatan Harapan (PH) 'cross-over', one suspects that he is reaching out to Amanah as he senses that PKR may not be too welcoming of him.
This follows an opposition by the Perlis state PKR deputy chairman Asrul Nizan Abd Jalil who has called on the party's top leadership not to accept the former UMNO Padang Besar Division chief whom he described as "a leader in the trash bin category".
Whatever the route for him politically, not many expect Zahidi to make much headway because he doesn't have the personality nor clout to propel him to something bigger.
In his home state of Perlis, he was known to be an ally of former strongman Datuk Seri Shahidan Kassim – but just like his disciple – the former federal territories minister, too, may fade into the sunset before long because he no longer has a viable platform "to make noises from".
One platform was the chair of Perlis UMNO but he lost that well before GE15. On a micro level within the state, the only consolation is his win in GE15 via the Arau parliamentary seat.
For the record, Shahidan who was initially left disappointed after being dropped by UMNO-Barisan Nasional (BN) had nevertheless successfully retained his Arau seat on a Perikatan Nasional (PN) ticket.
All-in-all, not a rosy future awaits these two Perlis politicians, especially for Shahidan who used to hog the limelight. – Feb 6, 2023