THE Ampang LRT line's delays in service this morning is due to a "kinked track alignment" near the Bandaraya station, said RapidKL.
Preliminary observations indicated that this was due to structural damage to a pillar in the vicinity, which is believed to be a result of construction work nearby, the rail operator said in a statement.
"The Ampang LRT service will operate at a lower speed and this will cause delays – nine minutes within the central business district and 18 minutes outside," it said.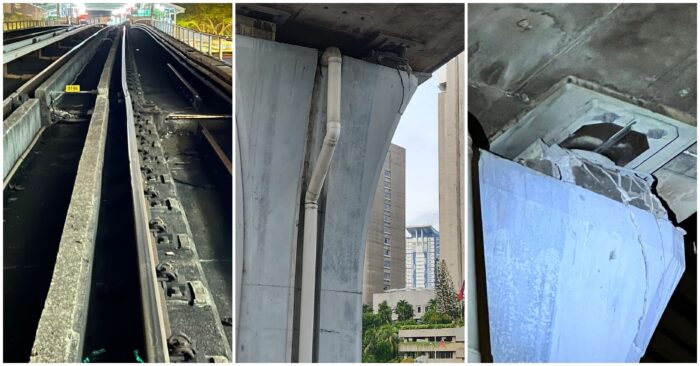 RapidKL also said Rapid Rail's engineers are on site to assess the situation with structural experts to ensure safety and soundness of the affected area.
It added that as a safety measure, Rapid Rail has decided to close off the line between the Masjid Jamek and Bandaraya stations.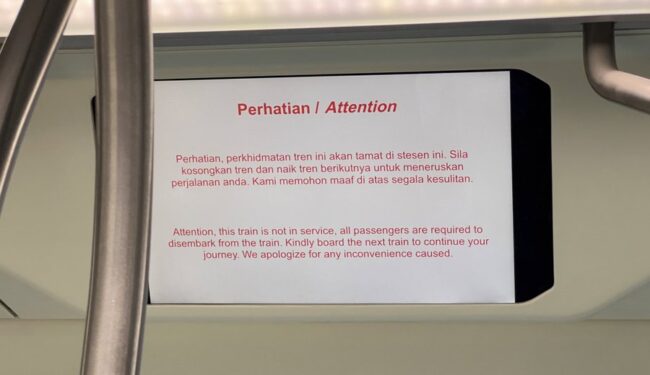 "Trains from Putra Heights will be rerouted back to Plaza Rakyat and trains from Sentul Timur will be sent back to the Bandaraya station," it said.
RapidKL said free shuttle services are also provided between the Hang Tuah, Bandaraya, and Sentul Timur stations.
Earlier, it was reported that delays on the Ampang and Sri Petaling LRT lines was a result of a crack in a main pillar near the Bandaraya station.
Following this, RapidKL has activated its alternative train services between the Plaza Rakyat and Masjid Jamek stations every six minutes, and between the Sentul Timur and Bandaraya stations every six minutes.
Rapid Rail also said police officers have been positioned at the main stations to manage congestion.
"Did not happen overnight"
As expected, netizens have taken to social media to vent their frustration, with many wondering why the issue was not identified earlier.
User @abikhsan said:
Landasan bengkok tu tak mungkin terjadi mlm tadi ya. Geng maintenance tak buat routine or periodic check ke? Lain lah jika landasan tu terbenam bawah tanah semua team tak nampak 🫣

— Ab Razak Ahmad (@abikhsan) January 27, 2023
(The kinked track alignment couldn't have happened last night. Didn't the maintenance crew conduct routine or periodic checks? It's different if the tracks are underground and all teams could not spot the problem)
Echoing @abikhsan, user @aimesketch said:
Sebaiknya lakukan tinjauan di setiap laluan secara berkala mmemandangkan laluan LRT ni paling lama di bina. Berapa lama tempoh baikpulih? Mudah utk kami plan perjalanan.

— aimesketch (@aimesketch) January 27, 2023
(A periodical survey ought to be conducted at each route considering the fact that this LRT route has been around for some time. How long do they need to fix the problem? This is so that we can properly plan our journeys)
An irate @ijustwanttoslap said:
@askrapidkl minta maaf minta maaf je. Couldn't check if there's a track problem the night before? WHAT THE FUCK IS WRONG WITH YOU PEOPLE? DO YOU KNOW HOW FUCKING CROWDED IT WAS IN EVERY STATION? DO YOU KNOW HOW LATE I AM TO WORK AS WE SPEAK?
Fuck yall la. https://t.co/Sw4FjZrwWJ

— chachamaru 😼 (@ijustwanttoslap) January 27, 2023
(All you do is apologise. Couldn't you check if there's a track problem the night before? What is wrong with you people? Do you know how crowded it was in every station? Do you know how late I am to work as we speak?)
Meanwhile, user @ItsAryya said:
Tolongla @askrapidkl klu blku apa2 pakailah hailer bgtaw pnumpg platform mana utk tunggu train. Ini tak officer n polis kau duduk tercegat mcm bodoh dkt platform tunggu org dtg cari.. dah tu nak kena tunggu sorg2 abis tanya baru kau dpt tnya. Tolong la smpn bodoh tu

— Arya 🇲🇾 (@ItsAryya) January 27, 2023
(If anything like this happens, please use hailers to tell train users which platform they should go to board the alternative trains. All your officers and policemen just stood there like idiots at the platforms waiting for people to approach them)
Said a frustrated @nadzirahfauzii:
@askrapidkl SURUH KOSONGKAN TRAIN TAPI PINTU TAKNAK BUKA 😭

— Naddy | (@nadzirahfauzii) January 27, 2023
(You tell us to vacate the train but the doors are not opening). – Jan 27, 2023