TOURISM Malaysia published numbers for tourist arrivals in the first quarter of this year on its website on July 13. It would be much better if these numbers were released three months earlier in early April so that industry players could be more proactive in tourism.
The total number of tourist arrivals was 4,387,602, a huge increase compared to the first quarter of last year but no surprise as travel restrictions in 2022 were only lifted in April and COVID-19 conditions eased in May.
Last year, there were 98,053 tourist arrivals in the first quarter, 2,014,107 in Q2, 3,423,761 in Q3, and 4,535,043 in Q4. Their monthly averages were 32,684, 671,369, 1,141,254, and 1,511,681 per month respectively.
A better comparison would be between the first three months of this year and the final three months of last year. Alarmingly, there was a slight drop of 147,441 and an average of 1,462,534 per month, with 1,496,308 in January, 1,298,261 in February, and 1,593,033 in March.
Earlier, I had projected that tourist arrivals should reach 18 million this year, as the monthly average for Q4 in 2022 had averaged more than 1.5 million per month, although the Tourism, Arts and Culture Ministry is targeting RM16.1 mil and RM49.2 mil in revenue.
Nevertheless, I am optimistic that total arrivals for 2023 could still hit 18 million as it is likely that another 13,612,398 foreign tourists could arrive at our shores from April to December, or an average of 1,512,489 per month if the momentum in March at 1,593,033 is maintained.
And this is possible even without the surge of Chinese tourists that Southeast Asian countries had been expecting after China resumed outbound group travel in early February by allowing tour operators to offer flight, hotel and tour packages to a selected group of 20 countries.
In 2019, 12% of tourist arrivals to Malaysia, or 3,114,257, were Chinese nationals but in the first quarter of 2023, they constituted only 4% or 178,150. It would be a bonus if their numbers rose dramatically but I would not count on it.
This is because China today is very different from the years before the pandemic. Although its economy was not weakened by COVID-19 as exports still soared, most people are no longer spending freely and are saving for a rainy day to brace for tough days ahead.
Although domestic tourism is doing much better than other sectors in China, people are no longer as keen to travel overseas for leisure. Before, shopping for luxury goods was to show off the level of success. Today, the rich who are depressed may buy expensive items for comfort.
This is due to the crackdown on technological businesses, there are fewer avenues to make a lot of money and the shift towards socialism for common prosperity resulted in capital outflows with some of the rich emigrating.
However, most telling of all, there had been unpaid furloughs, salary cuts and weak bonuses amid geopolitics. The US together with its allies is trying to contain China's growth, destabilise the economy and overthrow the Chinese Communist Party-led government.
Moreover, tensions are likely to continue for the next five to 10 years or more. It is no surprise that consumer confidence is down and that 64% of Americans have not renewed their passports and have no plans to travel overseas. Nevertheless, China is very welcoming to foreigners, from the government to the people.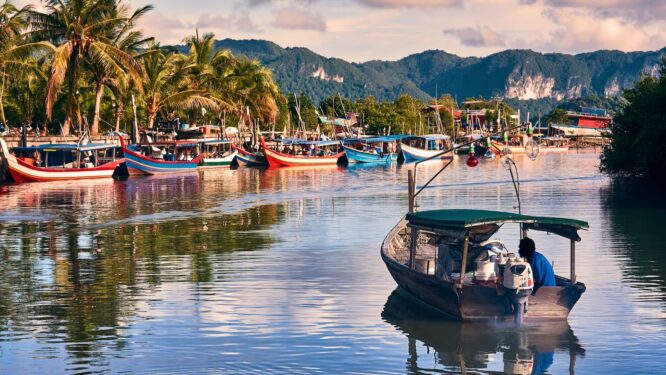 Interestingly, my opinion runs contrary to that of many economists who have foreseen the potential growth of Chinese tourists to boost Southeast Asian countries' tourism industries. For example, Public Investment Research said in its recent report that it expects China to contribute to the recovery of the global tourism industry, including Malaysia.
Hong Leong Investment Bank Research also sees China as a key ingredient in Malaysia's tourist concoction in its recent report. CGS CIMB also sees an upside from a pick-up in Malaysia's tourism sector over the next six to 18 months underpinned by the potential growth of Chinese tourists.
The most optimistic view was expressed by Deputy Finance Minister Datuk Seri Ahmad Maslan who was reported to have said that currently, more than 200 million tourists from China are planning their trips abroad and it is hoped they choose Malaysia as a tourist destination.
I would urge the authorities to have a greater focus on ASEAN and South Asian countries for foreign tourists and less on long-haul markets especially Europe, until there is a ceasefire in Ukraine and lesser unrest in some European nations amidst the high inflation.
In 2019, we received 17,880,151 tourists from nine ASEAN countries or 69% of all arrivals. In the first three months of this year, their percentage has risen to a massive 75%!
In 2019, India, Bangladesh, Pakistan, Sri Lanka and Nepal contributed 1,066,461 tourist arrivals to Malaysia or 4.1% of the total. In the first quarter of 2023, the nationalities of these countries constituted 4.6% of tourist arrivals or 200,594.
In any case, our greatest attention should be on the top 13 countries that contributed the greatest number of tourist arrivals in the first quarter of this year.
They are Singapore (1,827,625), Indonesia (704,147), Thailand (390,816), Brunei (207,182), China (178,150), South Korea (118,601), India (110,883), Australia (76,801), Vietnam (72,180), Philippines (67,657), UK (64,010), Taiwan (51,748) and the US (51,167).
These figures exclude excursionist arrivals and there were 8.9 million in 2019 plus another 26.1 million tourist arrivals. In other words, we received a total of 35 million visitors in 2019. Figures for excursionist arrivals in Q1 of 2023 have yet to be released for public scrutiny. – July 14, 2023
YS Chan is master trainer for Mesra Malaysia and Travel and Tours Enhancement Course and an Asean Tourism Master Trainer. He is also a tourism and transport business consultant.
The views expressed are solely of the author and do not necessarily reflect those of Focus Malaysia.