THE unity government should now do the right thing by dropping all pending charges against incarcerated former premier Datuk Seri Najib Razak for he has quietly solved problems that led to the recovery of all the lost 1Malaysia Development Bhd (1MDB) money while maintaining good diplomatic relations with the United Arab Emirates.
Moreover, the very fact that the Abu Dhabi's International Petroleum Investment Co (IPIC) and its unit Aabar Investments PJS have agreed to pay Malaysia US$1.8 bil to settle legal dispute over the 1MDB scandal has made the former Pekan MP "the only human being in the world accused of 'stealing' money lower than the actual value".
For context, the Finance Ministry announced yesterday (Feb 27) that IPIC has agreed to repay US$1.8 bil (RM8.08 bil) directly to Malaysia. As part of the settlement, it is understood that Abu Dhabi is also committed to investing an additional US$1.5 bil in Malaysia.
"Although the US$1.8 bil (RM 8.08 bil) received is less than the US$4.5 bil to US$7 bil under the original settlement agreement during Najib's tenure, the RM8.08 bil received is still higher in value than the RM6.6 bil breach of trust charge imposed on Najib," justified Najib on his Facebook page.
"(Ex-premier Tun Dr) Mahathir (Mohamad) and (former attorney-general Tan Sri) Tommy Thomas have committed a great injustice against Najib by lying to all Malaysians for many years in which his (Najib's) name will probably be affected forever due to the false accusation stemming from political greed."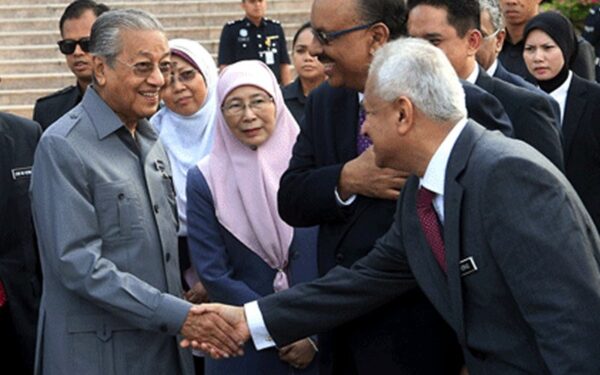 Elaborating further, Najib said both Mahathir and Thomas had immediately cancelled the settlement agreement that Najib had initiated between 1MDB and IPIC in 2017 to recover between US$4.5 bil and US$7 bil as soon as they came to power "so that the narrative of the 1MDB money 'unrecovered' could continue".
"To 'add severity' to such narrative, they later claimed that Najib had breached the trust amounting to RM6.6 bil in the IPIC settlement deal right after they cancelled the settlement agreement," claimed Najib.
"For four consecutive years, Najib has repeatedly urged the three Malaysian governments after him to continue with the IPIC settlement to prove that he did not cause Malaysia to lose money but the three governments ignored Najib's insistence."
The last time Najib made such a request was in March 2022 at the Parliament.
To further prove his innocence, Najib said the phone call between him and the Crown Prince of Abu Dhabi (now the UAE President) on July 22, 2016 which was leaked by former Malaysian Anti-Corruption Commission's (MACC) chief commissioner Lateefah Koya actually proved his negotiations and efforts to recover the money which eventually led to the settlement agreement in 2017.
Apart from being a personal attempt to resolve the 1MDB problem amicably between Putrajaya and Abu Dhabi, Najib said he and his stepson Riza Shahriz Abdul Aziz have no knowledge as to the source of the funds invested into Riza's company, Red Granite Pictures. – Feb 28, 2023
Main pic credit: DAP