INCUMBENT Ketereh MP Tan Sri Annuar Musa said he will neither lobby nor appeal to the party in the event that he was not nominated to contest the Ketereh seat in the forthcoming 15th general election (GE15).
Rather, the caretaker communications and multimedia minister said he will leave the matter to UMNO and the party leadership to determine who would get fielded for the national polls.
"I was made to understand that the party is still in the midst of [finalising the candidates] … I am also aware that invitations have been sent out to attend Barisan Nasional's candidate announcement ceremony for GE15 at UMNO's headquarters tonight," he said in a press conference in Kota Bharu today (Nov 1).
"My deputy division head Datuk Seri Md Alwi (Che Ahmad) has informed me that he had received an invitation for him to attend the event but I have not received any. I am in Kelantan anyway."
"Other government parties"
Speculation is rife that UMNO incumbents not aligned with party president Datuk Seri Ahmad Zahid Hamidi will be axed as candidates for GE15.
On this matter, Annuar said he has decided to keep a cool head today, noting that there is no need to panic or lose one's temper if dropped as there are plenty of other options for politicians now, including "other government parties".
His cool-headedness is in contrast to incumbent Arau MP and fellow UMNO member Datuk Seri Shahidan Kassim who had dramatically announced last night that all BN operation centres in the constituency have shut down amid rumours of him being dropped as a candidate.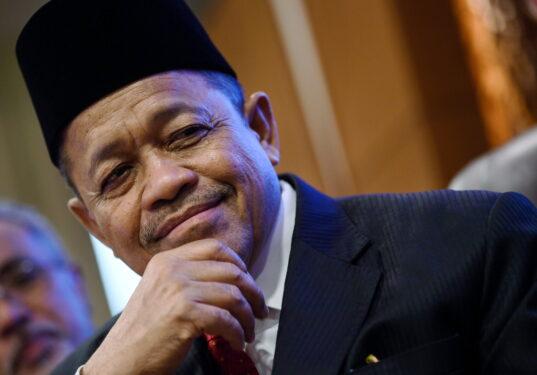 In remarks suggesting the threat of a boycott during the campaign for GE15, the caretaker federal territories minister said the development was unprecedented in the history of the coalition.
Speaking at a press conference earlier today, Annuar acknowledged rumours that he might not be picked to run for a third term in Ketereh.
He said that Ketereh Puteri UMNO chief Marzuani Ardila Ariffin informed him that she was offered the seat instead, but he is unsure if she had accepted it.
Annuar was among those listed as one of the four UMNO ministers who will most likely be dropped in GE15.
He further criticised Zahid by saying that they had differences of opinions as the latter had gone against the official decisions of the party.
"I spoke up when I found out the topmost party leadership had signed a letter agreeing to Opposition leader and PKR chief Datuk Seri Anwar Ibrahim as the next prime minister after bringing down then prime minister Tan Sri Muhyiddin Yassin," Annuar pointed out.
"The ones who told the truth are the ones dropped, the ones who did not get away. I did not support Anwar as PM not because I had personal enmity but because it was decided by the party – 'No Anwar, No DAP'."
He also stressed that it was not his style to beg for a seat from UMNO, adding that he had "enslaved" himself to the party as well as the BN coalition since his youth.
"If we contest to win and spend millions, we are only being idolised for the 14-day campaign period. We have to have principles and dignity in politics as this is not business," he remarked.
"I am honest but if there is a decision by the party, I will adhere to it. However, I will give my own opinion before the decision is made.
"Since UMNO fell in GE14, it has to reunite the Malays and Malay parties. If it does not do so, it will not be strong. It would then be possible that UMNO would have to seek help and beg others to support it as the government."
Further pointing out that he is keeping quiet as he did not want to "create fights", Annuar elaborated that he would not have been the government if not for PAS and Bersatu.
"We even won the Melaka and Johor state elections. We won all that but we forget we only had a small share of MP seats. I have kept quiet all this while but it does not mean I will remain quiet forever," he said.
On his next course of action, Annuar said he will be guided by the grassroots.
As Ketereh UMNO has more than 4,000 members, he said he would have to ask them first before he decides to shut down his operations rooms like what Shahidan did last night. – Nov 1, 2022
Main pic credit: Bernama