MAIN Market plywood products manufacturer Annum Bhd has embarked on a new smart farming business under its wholly owned subsidiary Annum Industries Sdn Bhd.
This venture which is part of the group's commitment towards promoting the adoption of the Industrial Revolution 4.0 (IR 4.0) in the agriculture sector entails a strategic collaboration with Serada Agrotech, Jabatan Pertanian Negeri Terengganu (JPNT) and other state authorities in Terengganu.
The smart farming initiative was officially launched by Terengganu's state executive councillor (agriculture, agro-based industry and rural development) Dr Azman Ibrahim (main pic, middle) at Taman Kekal Pengeluaran Makanan (TKPM) in FELDA Selasih Kampung Tok Dor, Besut.
"We are committed to integrating technology and innovation into smart farming activities which could optimise resources, reduce environmental impact and increase crop yields through digitalising farming activities by using cutting-edge technologies," commented Annum in a statement.
"We also aim to drive advancement in the agriculture sector by leveraging the potential of IR 4.0 technologies. Annum aims to significantly expand the project with plans to establish 200 greenhouses soon to be one of the key agricultural players in Malaysia."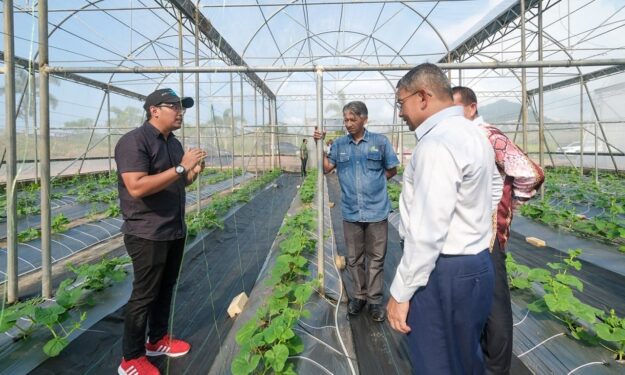 The smart farming initiative will see Annum Industries partner with technology provider ARB IOT Group Ltd in smart IoT (Internet of Things) solution to support advanced farming practices.
"Our collaboration with ARB IOT Group Limited exemplifies our vision for the future of farming. Together, we aim to transform agriculture in Malaysia using Internet of Things (IoT) to support sustainable and efficient farming," the Company added.
The smart farming initiative, among others, incorporates real-time monitoring of soil nutrients, pH, moisture, and environmental conditions, thus allowing for optimal crop growth and improved yields.
Moreover, automated processes such as watering and fertilisation are able to minimise labour requirements and reduce overuse of resources, thus enhancing operational efficiency. By being able to detect unusual chemicals and toxicity in the soil are can further ensure crop health and safety.
"The potential of smart farming is immense. With these systems in place, we can revolutionise the way we grow our food, creating a more sustainable and resilient agriculture sector for the future." projected Annum.
Looking at the bigger picture, Annum's smart farming initiative aligns with the growing trend in Malaysia's fruit and vegetable farming industry.
With the backing of the state authorities in Terengganu, Annum is optimistic that the integration of IR 4.0 technologies like smart farming will significantly contribute to the sustainable growth of the agriculture sector in Malaysia, enhancing productivity, efficiency and the overall quality of produce.
At the close of today's trading, Annum was down 0.5 sen or 2.63% to 18.5 sen with 839,500 shares traded, thus valuing the company at RM42 mil. – June 6, 2023