ALTHOUGH Bank Negara Malaysia's (BNM) Monetary Policy Committee (MPC) unexpectedly kept interest rates on hold at 2.75% at its meeting yesterday (Jan 19), a hike towards 3.25% seems imminent in the coming months.
Fitch Solutions Country Risk & Industry Research expects above-target inflation and negative real interest rates to prompt further tightening by the central bank to safeguard macroeconomic stability.
"Admittedly, we are now expecting headline inflation to moderate slightly to an average of 2.9% in 2023 (down from 3.1% previously) vs an average of 3.3% from January-November 2022," the research house which is independent of Fitch Ratings pointed out in a commentary.
"However, the key takeaway is that price pressures will likely remain higher than the 2016-2021 average of 1.5%, and the BNM's target of 2.2-3.2% forecast range for most of 1H 2023."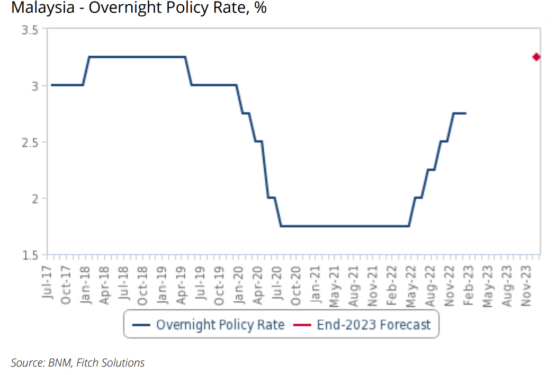 Fitch Solutions further noted that risks to its interest rate forecasts are now "slightly tilted to the downside".
"The ringgit has strengthened against the greenback by more than 2.0% since the start of the year, and further exchange rate strength could prompt the BNM to keep interest rates on hold for longer," observed the research house.
"In addition, a sharper-than-expected slowdown in the economy would prompt the BNM to turn its focus to supporting growth, while a quicker easing of inflationary pressures would dial back the need for further rate hikes."
Surprised at the "OPR pause", CGS-CIMB Research noted that such move is unexpected as it went against the research house and Bloomberg's consensus which almost unanimously expected a 25 basis points (bps) hike (only one out of the 18 analysts surveyed expected a pause in rate hikes).
"The big question now is the central bank's next move. During BNM's meeting with analysts, it highlighted that it is 'not quite done' with raising interest rates and that the decision to pause the hike was to 'assess the impact of the cumulative past OPR adjustments'," head of economics Nazmi Idrus pointed out.
"We see this as implying BNM's cautious outlook moving forward. In our view, there are uncertainties ahead with the increasingly dovish central banks' stance globally, new Malaysian Budget 2023 being announced in February as well as China's recent re-opening which BNM may want to see clarified before its next decision."
All-in-all, CGS-CIMB Research expects an upward direction in the horizon "with rate hikes likely to happen only in 2H 2023F.
"Budget 2023 may not give much clarity in terms of decisions over new taxes and subsidies as the government may hold off negative announcements until the state elections (to be held latest by Jun 2023)," opined the research house.
"In addition, the weaker global environment over the next few months will shift BNM's narrative to be more dovish until the global economy starts to turn around, As such, we still maintain our outlook for end-2023F OPR of 3.25% with a pause in 1H 2023F and a 50bps hike in 2H 2023F." – Jan 20, 2023