PRIME Minister (PM) Datuk Seri Anwar Ibrahim has announced that the renowned electric vehicle company led by Elon Musk, Tesla, is set to establish its Malaysian headquarters in Selangor this year.
Anwar revealed this exciting development after holding a virtual meeting with Musk, accompanied by SpaceX senior director Lauren Dreyer, Investment, Trade, and Industry Minister Tengku Datuk Seri Zafrul Abdul Aziz and Communications and Digital Minister Fahmi Fadzil.
The meeting lasted approximately 25 minutes, as reported by the PM's Office.
Anwar, who is also the Finance Minister, expressed his warm reception towards Tesla's interest and decision to invest in Malaysia, adding that Musk stated his readiness to visit Malaysia soon.
This move is expected to bring significant economic benefits to the country and create new employment opportunities.
The decision by Tesla to establish its Malaysian headquarters underscores Malaysia's appeal as a favourable destination for global businesses seeking to expand their operations. It also reflects the country's growing significance in the electric vehicle market and its efforts to promote sustainable technology.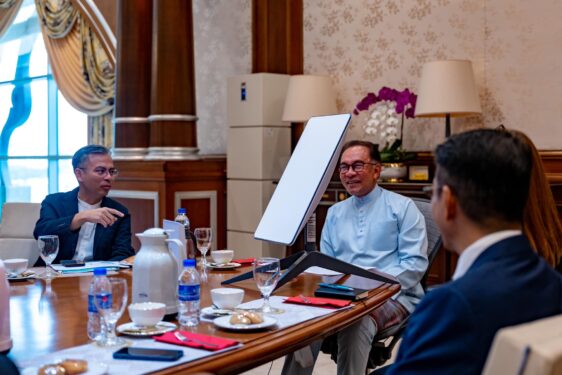 "I also congratulated him and stated the government's support for the establishment of Tesla's headquarters as well as service and experience centres in Selangor this year," said the PM.
He added that he also praised SpaceX's decision to operate as an internet service provider using low-orbit satellites, adding that it would lead to faster and wider internet connectivity, especially in rural areas.
This initiative could boost the welfare of people worldwide and only require minimal land space to improve global internet connectivity, according to Anwar.
Reaffirming the government's commitment, Anwar emphasised that Putrajaya remains dedicated to achieving net-zero carbon emissions by 2050 at the earliest.
"Malaysia has a comprehensive plan and ecosystem, as well as competitive resources, to support the clean energy industry, including electric mobility." – July 14, 2023
All photos credited to PMO.