EVEN as his predecessor Datuk Seri Ismail Sabri Yaakob has shot down the idea of plotting a clandestine "Langkah Tropicana" meeting with PAS – lamenting that he could not even see his friends anymore without being linked to a move to topple the government – Datuk Seri Anwar Ibrahim still has to take that assurance with a pinch of salt.
The dust has yet to fully settle – envy, hatred and vengeance – are lurking everywhere. The Pakatan Harapan (PH) chairman has to be very careful of his surroundings; in the words of German philosopher Friedrich Wilhelm Nietzsche (1844-1900, "the man of knowledge must be able not only to love his enemies but also to hate his friends".
It is not that we don't believe in MCA president Datuk Seri Wee Ka Siong's claim that it was merely a coincidence that he happened to be at the Tropicana Golf Club to have a dimsum brunch with two Chinese entrepreneurs when he bumped into "the ninth PM and (only) exchanged some greetings" (as per his Facebook post).
Former minister in the prime minister's department in-charge of religious affairs Datuk Dr  Zulkifli Mohamad al-Bakri said it best when he cautioned Malaysia's 10th Prime Minister (PM) to "be careful with bad advisors as the Prophet SAW reminded leaders that (if these people) can lift you up, they can also orchestrate your downfall".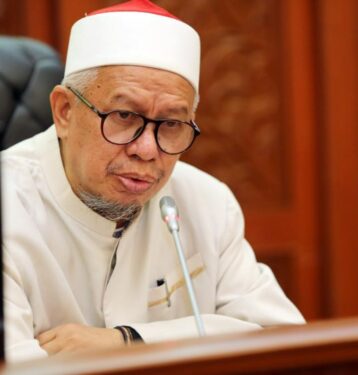 "When God wants good for the leader, then he will be him with a true and sincere helper. If the leader forgets or becomes complacent, he will be given a caution. If the leader remembers, help will surely come his way," penned Zulkifli in a Facebook post, citing one hadith from the Riwayat Abu Dawud (verse 2,932).
"On the other hand, if God wills something other than that (evil) to the leader, He will surely make him an evil helper. If the leader forgets and is negligent, no warning will be given, and (even) if he remembers, no help will be accorded to him."
As with previous PMs – starting with Datuk Seri Najib Tun Razak, Tun Dr Mahathir Mohamad and Tan Sri Muhyiddin Yassin – Zulkifli said he had from time to time conveyed appropriate advice to them as both a source of wisdom and guidance.
As the Tambun MP-elect is in the midst of finalising his Cabinet list, he must be not let his judgment be swayed by lobbyists but to always stick to the original principle of his struggle which is to put Malaysians first regardless of their skin colour or creed (unlike one of his predecessors who openly claimed to be Malay first and Malaysian second).
Anwar must remember that despite compromises being inevitable given he now has an unenviable task of leading an unprecedented and untested unity government system in Malaysia's 65-year history, he must endeavour to live up to all the pledges he made during his 15th General Election campaign in the run-up to the national poll on Nov 19.
Back to the issue of having bad advisers by one's side, Anwar can definitely pick a chapter from the "fourth-floor boys" episode which not only caused the downfall of the Tun Abdullah Ahmad Badawi's administration but was described by UMNO supreme council member Datuk Dr Mohd Puad Zarkashi as having triggered a big-time decline of UMNO.
In a Nov 22, 2018 interview with Malaysiakini, Puad said stories of how these advisors controlled the Prime Minister's Office (PMO) soon became campaign fodder for the opposition and Abdullah's influential predecessor Tun Dr Mahathir Mohamad.
Dr Mahathir had handpicked Abdullah, who is affably known as Pak Lah, after he stepped down in 2003. However, following a fallout, Mahathir launched a series of scathing attacks on Pak Lah and this intensified after the 2008 general election, forcing Abdullah to relinquish his post to the now incarcerated Datuk Seri Najib Razak. – Nov 27, 2022