THE unity government must accept the hard truth that taking a confrontational stance to oppose or 'disrupt the charm' of charismatic Kedah Menteri Besar Datuk Seri Muhammad Sanusi Md Nor is bound to backfire.
In fact, the "Sanusi's aura" has been deemed by political observer Dr Tanaka Mustafa as the primary factor for the rejection of tenth Prime Minister Datuk Seri Anwar Ibrahim (PMX) in Kedah as evident from outcome of the Aug 12 six state polls.
"In general, the wave of Malay/Muslim rejection of PMX and PH/BN (Pakatan Harapan-Barisan Nasional) cooperation covers all states. This is the main factor with Sanusi's aura being the second factor except in Kedah (which is the other way around)," penned Tanaka in a recent Facebook posting.
"(In Kedah), Sanusi's aura becomes the first factor while the rejection of PMX and PH/BN is the second factor."
One of the ways of striking a balance so that the aura of PMX will not be unduly overwhelmed by Sanusi's aura is for PMX to deal with the PAS warlord in a more professionally organised, rigorous and credible manner, according to Tanaka.
"Such step will not reduce Sanusi's aura but shall increase PMX's aura to a higher level. So far, PMX has only avoided meeting Sanusi which is seen as an act of cowardice in the eyes of the Malay/Muslim majority," opined the political thinker.
In fact, Tanaka has listed 10 traits associated with Sanusi's aura, namely (1) being the voice of the people; (2) dare to defend hat is perceived as truth; (3) big vision; (4) speak the truth about rights; (5) date to oppose falsehood; (6) ability to multi-skill and multi-task; (7) operates in an organised manner; (8) put in 200% effort; (9) abide by the law; and (10) protect the poor.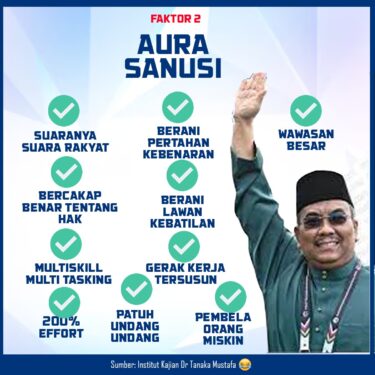 As for the rejection of PMX and the PH-BN alliance, Tanaka listed a dozen possibilities in the eyes of the Malay-Muslim majority:
(1) Broken promises
(2) Incompetent ministers
(3) Governance a joke
(4) DAP is still very influential
(5) Political vengeance
(6) Government losing focus
(7) Declining economy
(8) Arrogant leaders
(9) Feeling of being cheated
(10) Insulting people in PN states
(11) Rejecting PH-BN cooperation; and
(12) Failure to understand the concept of federalism. – Aug 27, 2023