PAS mouthpiece HarakahDaily was quick to capitalise on government backbencher Hassan Abdul Karim's (PH-Pasir Gudang) grisly reminder with regard to the adverse effects of over-centralising power on an individual.
The PKR representative has highlighted that despite being confident in Prime Minister (PM) Datuk Seri Anwar Ibrahim's integrity and determination to fight corruption, the 1Malaysia Development Bhd (1MDB) scandal should serve as a lesson to Anwar about the risks when a PM also holds the position of Finance Minister.
"I have no mala fide or bad intention but just to remind you that power tends to cause corruption. As absolute power corrupts absolutely, power must be used carefully, not hastily," the former Parti Rakyat Malaysia (PRM) president said in his debate on the motion of thanks on the royal address in the Dewan Rakyat.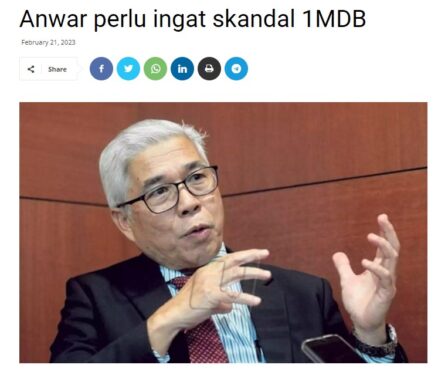 "I don't want the 1MDB incident to happen again given that the PM at the time was also the finance minister. We can see what the effect is now."
Praising Hassan's debate speech as different from that of other government backbenchers, HarakahDaily said he was spot on in reminding Anwar not to be "too reckless and aggressive" in using his power to fight corruption given he risks "doing selective prosecution by victimising the opposition party".
Therefore, Hassan's concerns were not unfounded after seeing one opposition MP after another as well as former leaders being hauled up by the Malaysian Anti-Corruption Commission (MACC) and other authorities with some even brought to court.
"Today, YB of Tasik Gelugor (Datuk Wan Saiful Wan Jan) was dragged to court under charges of corruption. A few days ago, YB Pagoh (Tan Sri Muhyiddin Yassin) was investigated by the MACC and so was the former finance minister when he was the fourth PM in relation to the Pandora Papers," noted the 67-year-old lawyer by qualification.
"I don't have a problem if such action is legally binding because this is a normal process with investigation agencies like MACC but I have to state that we have to be careful.
"Now we can call all ministers and former ministers because we have the power. MACC and the police are under us. But I'm worried that if we aren't careful, there may be selective prosecution with the opposition party being victimised," he added. – Feb 21, 2023