PAS' Pengkalan Chepa MP Datuk Ahmad Marzuk Shaary has told Prime Minister Datuk Seri Anwar Ibrahim not to forget the deeds of former Yang di-Pertuan Agong (YDPA), Kelantan's Sultan Muhammad V, who had pardoned him in the aftermath of the 14th General Election (GE14) lest he would not be in his current position today.
Sultan Muhammad V had on May 16, 2018 consented to pardon Anwar after going through the pardon process.
"If not because he was pardoned and decreed to be released, the Tambun MP would not have arrived at the august house today. Who was responsible for that? None other than the Sultan of Kelantan who was the then YDPA," HarakahDaily cited Ahmad Marzuk as saying during the debate on the Supply Bill 2023 in the Dewan Rakyat, today.
"And it is also this Sultan who ordered that the settlement of the petroleum cash payment claim issue to be resolved according to the agreement that has been signed," reminded the former Deputy Minister in the Prime Minister's Department in charge of Religious Affairs.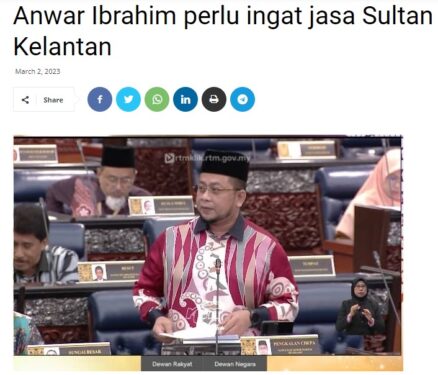 Elaborating further, Ahmad Marzuk recalled that during the opening ceremony of the Kelantan State Legislative Assembly (DUN) in March 2012, Sultan Muhammad V had ordered that gas can be landed in Kelantan because the state had set up a 4,000-acre petroleum industry zone on Pantai Bachok since 1990.
"All this happened during the Tambun MP's (Anwar) time as finance minister; it should be the joint development area for petroleum mining but somehow overlaps with Thailand whose distance is a mere 140km away," explained the PAS central working committee member.
"But in 1996, the Tambun MP in his capacity as the finance minister shifted this gas landing facility to Songkhla in Thailand which is 230km away. If you truly want to raise the dignity of the Malays, where do we have Malays in Thailand's Songkhla?"
Similarly, Ahamd Marzuk justified that if the intention is to eliminate hardcore poverty in Kelantan, then oil should be landed at Pantai Bachok because such effort would have certainly driven the downstream industry but that was never the case.
In addition to that, Ahmad Marzuk also lamented that Kelantan was also deprived of the 5% petroleum revenue.
Minister in the Prime Minister's Department (Law and Institutional Reform) Datuk Seri Azalina Othman Said had recently said that Kelantan and Terengganu did not qualify to receive petroleum royalties as they could only claim rights up to three nautical miles, according to the Regional Sea Act 2012.
"The Cash Payment Agreement signed between PETRONAS and the (state) governments of Kelantan and Terengganu stipulates that the states will be paid 5% for the petroleum won and saved in Kelantan and Terengganu within three nautical miles from the coastline," she said in a Dewan Rakyat reply to Pagoh MP Tan Sri Muhyiddin Yassin.
"PETRONAS has never channelled petroleum revenue directly to Kelantan and Terengganu thus far because the extraction points are beyond the three nautical mile limit."
In the run-up to the 15th General Election (GE15), Muhyiddin who is also the Perikatan Nasional (PN) chairman had promised that Kelantan and Terengganu would be paid the 5% should PN come to power. – March 3, 2023