PRIME Minister Datuk Seri Anwar Ibrahim has rejected claims by some parties that he is running the unity government as a dictator following the signing of a Memorandum of Agreement (MOA) between the parties in power or that he will allow lesbian, gay, bisexual, and transgender (LGBT) freedom in Malaysia.
Responding to claims that he would recognise the LGBT community, the concept of a secular state, and communist ideology, he simply described the allegations as lies. Anwar insisted that these were unlikely to happen under his administration.
"Sometimes these politicians are shallow. That is not true. For example, some say that if Anwar becomes Prime Minister then Islam will be destroyed, secularism and communism will be established, and the LGBT community will be recognised.
"This is just daylight delusion. Of course it will not happen and inshaAllah under my administration it is unlikely to happen," he said.
The opposition Perikatan Nasional (PN) said the MOA sets the base for a dictatorship to rule Malaysia, but Anwar said the cooperation agreement with party components from East Malaysia made after the unity government was formed was necessary for political stability.
Former deputy law minister Mas Ermieyati Samsudin said the MOA is a "prelude to dictatorship" adding, "This MOU is illegal, unconstitutional, dangerous and unenforceable."
Some PN leaders have accused Anwar of being a supporter of the LGBT community and said that under his rule he would recognise the LGBT community, the concept of a secular state, and communist ideology, as claimed by some opposition leaders before.
The PAS has made the LGBT issue a major social media campaign, particularly on TikTok and on some Facebook fan pages where Pakatan Harapan (PH) supporters are attacked with "homosexual" memes and jokes.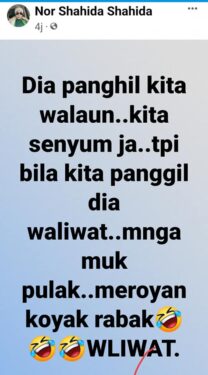 On the MOA, Anwar, speaking during the 'Naratif Khas Bersama Perdana Menteri' last night, said the agreement was necessary to bring stability to the country.
He denied that the MoA is a form of dictatorship.
"So, I put forward this (motion of confidence) and thank God we got strong support. So my question is, where is the dictator? Am I breaking the law?"
Asked about the suit he filed against several individuals, Anwar said it was because their accusations touched his power as a leader.
"Thousands of accusations were made, defamation was thrown and I have received it for decades but if I feel it is too much because they question my authority and credibility as a leader, then they should be taught that this freedom is not the freedom to slander.
"…they use religion, then slander, and make accusations, I want to ask their teachers in (PAS), to teach them first before teaching others," he said. — Jan 7, 2023