Letter to editor
PRIME Minister Datuk Seri Anwar Ibrahim made his maiden speech at the 78th session of the United Nations General Assembly (UNGA) last Friday (Sept 22).
His message needs to be appreciated as he touched on various important issues confronting the world. Many would have missed a chance to hear him speaking so lucidly and eloquently in English – a rarity among Malaysian leaders in recent times.
Many world leaders – especially from the Organisation of Islamic Cooperation (OIC) member countries, Third World nations and even from the West who did not attend or had no notice of Anwar Ibrahim's turn at the rostrum – would have regretted not hearing an excellent speech from a newly elected leader.
Anwar's speech was very much reminiscent of Tun Dr Mahathir Mohamad who used to blaze the rostrums and forums with his fiery opposition against political hegemony, polarised international relations, exploitation of the poorer South by developed economies and the emphasis for equality among nations and a more peaceful world.
Anwar has chosen to delve on the current issues such as climate change, the unending flow of refugees, the Russian-Ukraine conflict turning into a nuclear war, how the prolonged conflict is posing a danger for food security worldwide, the still unresolved Palestinian issue, the burning of the Quran, the humanitarian crisis in Afghanistan and Myanmar, and the global socio-economic disparity, among others.
In my analysis, it was one of the best UNGA speeches by a national leader amid Anwar's emphatic tone and elegant delivery. Even Tun Dr Mahathir Mohamad cannot measure up to Anwar whose style was more persuasive and compelling.
Global conflicts
As for the UNGA hall having a smaller audience, the blame should lie squarely on the UN secretary-general Antonio Guterres and his officials.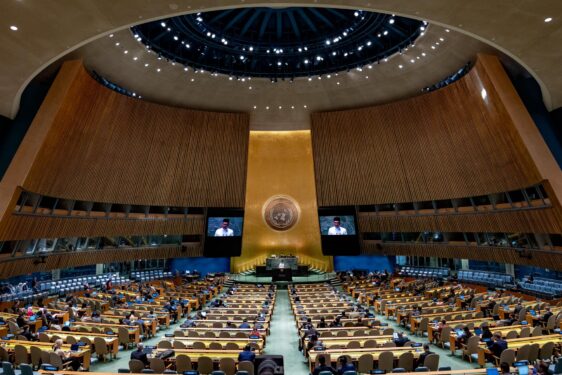 The UN needs to give more emphasis to UNGA as it is the main  annual platform in which heads of government and leaders feel free to make known their stand and views on international affairs.
Much can be gleaned from their messages. National delegations need to be reminded to ensure that their diplomats, representatives, officials and others should attend the meetings and hear the speeches of world leaders. If this is not the case, why are they coming for the UNGA in New York? They might as well stay at home.
Today's world faces the greatest number of problems in perhaps the last 100 years with looming civil and proxy wars, natural disasters, threat of nuclear conflagration, dangers of pandemics, refugees fleeing from their homelands, China-India animosity, food security, environmental degradation, climate change and the widening gap between the rich and poor countries, to name a few.
As these are crucial issues confronting our world, a chance to hear national leaders speaking up on international and global issues or formulating solutions and responses should not be missed especially by diplomats and officials.
Influential leader
Anwar's speech was significant in that it urged the nations to revive their faith in the UN as it was a global government set up for the peace and progress of mankind.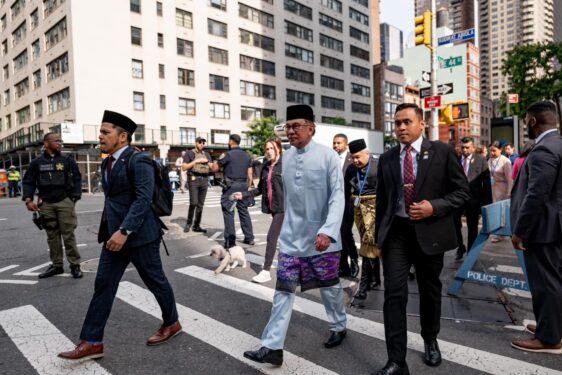 The UN has lost a lot of its influence and clout over the 'decades of decadence' so to speak with many nations now exploring alternatives like military alliances, political blocs, multi-lateral trade groupings and regional associations which further erode the UN's power.
The Malaysian leader even coined the term' mini-lateral' meaning that only a handful of nations are combining for a common purpose nowadays which has become the norm.
The UN has to regain its lost influence, respect and power by a programme of reform of its institutions and set up, especially the Security Council, to keep it in touch with present day needs and realities.
Snippets of Anwar's UNGA speech need to be shown on our TV channels during news bulletins for Malaysians to know more about the nation's stand on diverse international issues as well as to herald the re-emergence of Malaysia as a force to be reckoned with again in global affairs.
With experience, Anwar can be expected to deliver a more positive and expressive speech next year to a greater receptive audience.
Wisma Putra needs to be catalysed and transformed from its present lethargic state if Malaysia is to play a leading role in world affairs especially in ASEAN, the Indo-Pacific, OIC, Asia-Pacific Economic Cooperation (APEC) and other forums.
Top level diplomats and Foreign Ministry officials are needed and fluency in English, Mandarin, Hindi, French, Spanish and Arabic will be vital. – Sept 27, 2023
V. Thomas
Sungai Buloh
The views expressed are solely of the author and do not necessarily reflect those of Focus Malaysia.
Pic credits: Datuk Seri Anwar Ibrahim's Facebook