WHILE tributes are still pouring in for the late Domestic Trade and Cost of Living Minister Datuk Seri Salahuddin Ayub, a particular party president has already found himself in hot water over the matter.
And the temperature is rising even though he had hit the "Delete" key on his keyboard, as by now he should realise that the price that he will have to pay is too costly when he is insensitive towards the family of the late Pulai MP.
Datuk Dr Dominic Lau Hoe Chai caused a stir on social media when he tweeted a question asking, "Is it OK if I contest in the Pulai by-election?"
The tweet, which has since been deleted, was posted barely an hour after the late Salahuddin was laid to rest.
Rebuking Lau for his lack of sensitivity, one netizen going by the moniker 'aku/saya' said: "Do you think by deleting your post, the controversy will be deal with?"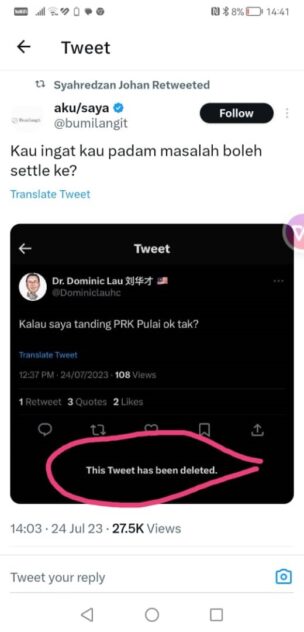 The Madani government upholds a full democracy which means that anyone can contest in the elections but it is simply appalling that some politicians are already shamelessly asking if they can contest in the Pulai by-election.
Had the question come after the dust had settled and the Election Commission had made the announcement of a by-election, people would not bat an eyelid but the same cannot be said when the mourning period is still on-going.
A screenshot of the post was also retweeted by Bangi MP Syahredzan Johan who said, "The deceased was just laid to rest, and the Gerakan president has tweeted like this."
After Lau deleted the tweet, Syahredzan posted a screenshot of it while commenting: "You're not getting away."
Lau, a two-time rival from Gerakan who contested against Chua Tian Chang (Tian Chua) and lost badly to the PKR lawmaker in the Batu constituency managed only to garner 30.77% of the total votes in 2013.
Subsequently his popularity vote had also dropped to a mere 21.9% in 2018 while his rival Prabakaran Parameswaran (PKR) managed to attract 60.7% of the votes in 2018.
Gerakan did not contest in the 2022 general election, but has since returned to contest in the state election on Aug 12.
It is timely for the Gerakan candidate to heed an advice from a portal: "It is one thing for politicians to drink their own kool-aid, but it would be downright silly for voters to lose their sense of objectivity, or worse, their moral bearings."
Lau will be making a debut in the Penang state constituency of Bukit Tengah in the coming state election. He is slated to become the Penang chief minister replacing Chow Kon Yeow if Perikatan Nasional forms the next state government.
But, he is far from being a towering giant compared to some of his predecessors such as the late Gerakan leader Dr Lim Chong Eu, who was also Penang's second chief minister from May 1969 to Oct 1990.
For this reason, a political observer from Putrajaya, Nick Lau urged Lau to openly apologise to the family of the late minister and his friends who are still mourning over his death.
"This is a premature statement while the country is still grieving. It is unethical and not respecting the dead and his family," he lambasted Lau.
"A guy who doesn't have the decency on how to respect the recently deceased will never get a vote from me," said another netizen, Patrick Selvaraj.
"It seems that he is too eager to please his Green masters that he forgets who he is."
From Penang, Razak Ismail said that Dominic's post shows he is devoid of human emotion as a sign of respect a fellow Malaysian who has passed on. "Zero emotion of people's feelings," he quipped.
"Is this the result of associating with PAS election director, (Datuk Seri) Muhammad Sanusi Md Nor?" asked Roger Lim, who could not believe what he read.
"The caretaker Kedah menteri besar too, was very indiscreet with families of COVID-19 patients when he jokingly suggested that their corpses be stored away in freezer containers."
The late Saifuddin's remains was laid to rest at his hometown at the Jalan Sulong Muslim Cemetery in Pontian at 12 noon today. He leaves behind a wife Fatimah Taha and six children.  – July 24, 2023