THE evasive manner in which Home Minister Datuk Seri Hamzah Zainudin purportedly answered a parliamentary query raised by Kepong MP Lim Lip Eng has certainly cast doubts if the Royal Malaysian Police (PDRM) are seriously closing in on the trail of fugitive financier Low Taek Jho a.k.a. Jho Low.
In an answer to the question raised by the DAP lawmaker if the police has contacted two American journalists Tom Wright and Bradley Hope on the duo's claim that Jho Low and his family members had been spotted in China and Hong Kong in 2018 and 2019, Hamzah made no mention whatsoever of any contact made with Wright and Hope in his 111-word reply.
"Every information received on Jho Low's whereabouts abroad will always be verified by PDRM, including leveraging cooperation channels with authorities in the said country based on existing channels and the good rapport with the foreign authorities," Hamzah pointed out.
It is little wonder then that Wright has claimed in his latest tweet that nobody in the Malaysian Government is interested in trying to track down Jho Low who is said to have masterminded the RM50 bil 1Malaysia Development Bhd (MDB) fiasco.
In a tweet following a report citing PDRM's reluctance to offer rewards for information leading to Jho Low arrest, Wright remarked that "Not only that. No one in the Malaysian Government is trying to find him. We discuss why on our @YouTube channel. New episode later today".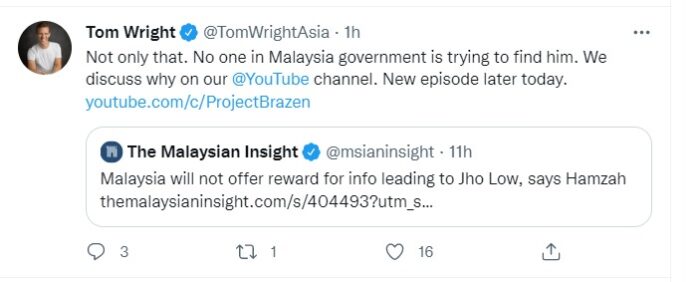 With regard to the second half of Lim's question on rewarding informants who can pinpoint the whereabouts of Jho Low and his henchmen, Hamzah said it is PDRM's view that the Red Notice option issued by INTERPOL "is better of as it leverages elements of cooperation and more accurate source of intelligence information".
"This method requires any of the 195 member countries with information on Jho Low to channel such information to Malaysia to initiate an extradition action," he added.
On Sept 23, Wright had tweeted new photos of Jho Low in Macau with his Chinese handler in addition to putting a wanted poster in Chinese to explain how the 40 year-old Penang-born businessman "has really stolen US$8 bil". – Oct 5, 2022
Main photo credit: Bernama