KAMPAR MP Chong Zhemin has questioned the Kelantan state government if they were going to boycott Mercedes-Benz, a German luxury car manufacturer that openly supports the Israeli regime.
When debating the 2024 Supply Bill at the committee level, Chong mentioned that the state government used the luxury car as the state government's official car.
He then urged the Kelantan state government to state their stance following the carmaker's recent move to donate RM5 mil to an Israeli-supporting firm.
"I would like to ask the Kelantan state government, will you still be using Mercedes after this? Do you have any plans to boycott Mercedes?
"If you want to boycott [Israel-linked businesses and products], don't practise double standard and just boycott everything," Chong said in the Dewan Rakyat today (Nov 20).
"Don't drink Starbucks, don't eat McDonalds and stop using Mercedes as well, okay?"
Recall that in 2020, then Kelantan deputy Menteri Besar (MB) Datuk Mohd Amar Nik Abdullah purchased 14 Mercedes Benz S 450 L AMG line worth over RM600,000 per unit for state executive council members and state secretary to use.
Last Wednesday (Nov 15), Mercedes Chairman of the Board of Directors Ola Källenius announced the German car manufacturer had donated RM5 mil to two organisations in Israel – United Hatzalah and the German Red Cross – amid the recent unrest between Palestine and Israel.
For context, Malaysians have been boycotting Western companies that have expressed support for Israel in its ongoing conflict with Hamas.
Messages urging Malaysians to boycott McDonald's, Burger King and Starbucks are making rounds on social media. Some celebrities have also joined the fray, as they say more needs to be done than just holding protests.
On Oct 29, well-known Malaysian entrepreneur Vivy Yusof posted a video on Instagram, saying: "If we think we are helpless, guys, we are really not… Keep praying, keep donating, keep speaking up, keep posting, keep boycotting."
In the post, which garnered almost 37,000 likes at the time of writing, she wrote: "I'm not a fan of boycotts, but this time, it's literally a matter of life and death. If we keep funding the global companies that give to IDF, why would they stop – they will only care if their sales go down."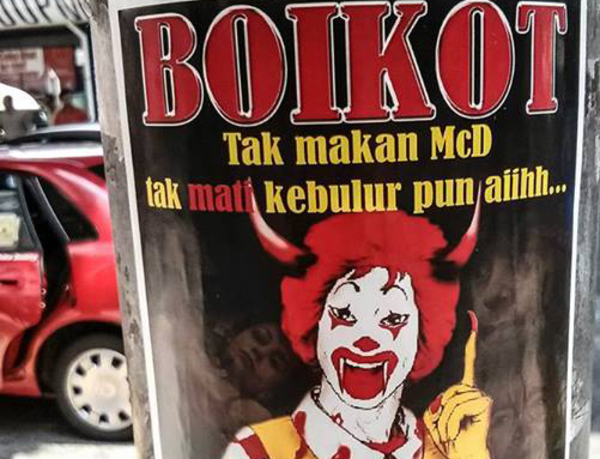 McDonald's is facing the ire of Malaysians when a Reuters report on Oct 17 stating that McDonald's Israel said that it has given thousands of free meals to the Israel Defense Forces (IDF) to personnel fighting the war against Hamas on its social media accounts.
McDonald's Malaysia issued statements dissociating itself from the Israeli franchise. It said the company in Malaysia is a 100%-Muslim-owned entity, and that it had contributed RM1 mil to the Palestine Humanitarian Fund under the Prime Minister's Department.
Some Malaysians are also boycotting coffee house chain Starbucks. They said the American-based chain sued its labour union in the US state of Iowa over a union social media account stating support for Palestinians, pointing to an Associated Press report dated Oct 19.
Food and beverage giant Nestlé is also one of the names on the list of brands to boycott. According to news reports, it has plants in Israel.
On Nov 4, Nestlé Malaysia, which produces food products such as Milo, Nescafe, Maggi and KitKat, said that its products are made in Malaysia by Malaysians.
"As a global company, we foster mutual respect and tolerance across cultures, religions and nationalities. We are deeply saddened by the current humanitarian crisis in Palestine.
"We firmly oppose all forms of violence and hope that peace will be restored soon," Nestlé was quoted as saying by The Straits Times on Nov 4. – Nov 20, 2023
Main pic credit: Facebook/Chong Zhemin