NETIZENS took to social media to criticise the Malaysia Digital Economy Corporation (MDEC) for appointing former UMNO minister Tan Sri Shahrizat Jalil's daughter, Wan Izzana Fatimah Zabedah Salleh as its independent non-executive director.  

User Nebula added:

Netizen Laga Cawan had a cheeky reply to the appointment saying:

(Congratulations to Ismail Sabri's Government for appointing another child from a corrupt family into a public institution. Worse, the NFC case is still on-going. Truly an UMNO family at helm)  
In 2007, the Government allocated RM250 mil to strengthen the nation's feedlot sector and the National Feedlot Corporation (NFC) secured the funds for the said purpose.  
The money was then channelled in three stages and NFC chairman Datuk Dr Mohamad Salleh Ismail was said to have made 10 withdrawals amounting to RM180.51 mil between Jan 3, 2008 and Jan 3, 2011.  
It was then alleged by the public prosecutors that out of the sum, only RM8.32 mil was given to a third party to manage the National Feedlot Centre while the rest was misused to purchase condominium and others.  
Salleh is Shahrizat's husband. As of now, the Government is the midst of using the court process to reclaim the funds lost, naming Salleh and his children; Wan Shahinur Izran, Wan Shahinur Izmir and Wan Izzana as defendants. 
On that note, the man who exposed the scandal years back, PKR vice president Rafizi Ramli mocked Wan Izzana's appointment into MDEC.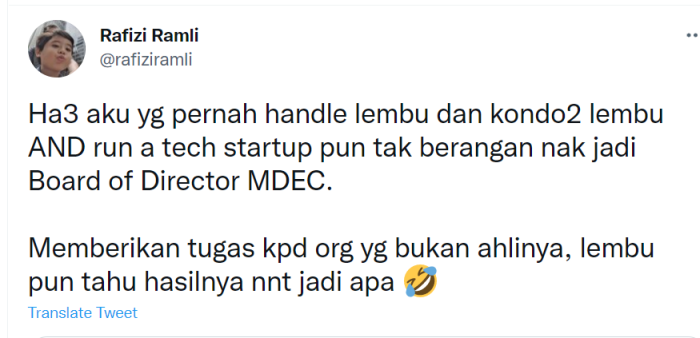 (I have dealt with cows and condominiums, on top running a startup tech firm and yet, never even dreamt of becoming a director for MDEC. On that note, if you give a task to someone unqualified, even a cow will know its outcome)  
User Eric Teh remarked:

(Everyone knows this is Barisan Nasional's habit. However, voters don't really care because they didn't feel its damage directly) – Dec 3, 2021.