STANDARD Chartered Bank (Singapore) Ltd (StanChart) expects Bank Negara Malaysia (BNM) to keep its overnight policy rate (OPR) unchanged at 2.75% after the surprise pause in January.
With subsidies still in place, January inflation moderating slightly, and with only one month of data since the January pause, the central bank is likely to maintain its wait-and-see stance to assess the impact of cumulative past OPR adjustments, according to StanChart.
"We will watch for how BNM's assessment of the domestic growth and inflation outlook has evolved over the past month," the bank's chief economist (ASEAN and South Asia) pointed out in a global research note. The central bank will announce its monetary policy decision this Thursday (March 9).
"While the central bank paused in January, the tone of the accompanying monetary policy statement was not dovish. BNM had a positive assessment of the domestic economy and left the window open to further hikes."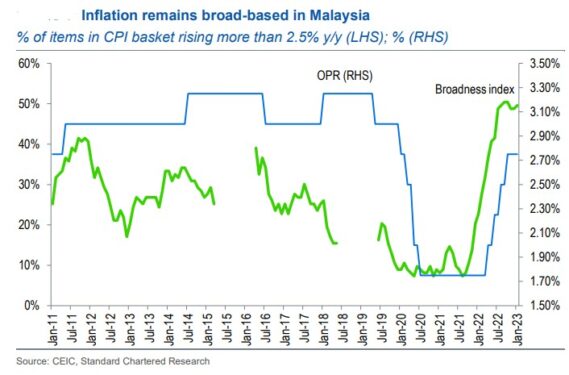 Nevertheless, StanChart maintained its call for the central bank to hike the OPR pre-emptively by 25 basis points (bps) to 3.00% in May ahead of a potential fuel subsidy rationalisation in 2H 2023 which may exclude the top 20% (T20) income group from fuel subsidy.
"At the Finance Ministry's (MOF) US$80/barrel oil price assumption, we estimate that removal of the fuel subsidy for the T20 income group will add 0.5 percentage points (ppt) to inflation annually," added StanChart.
Meanwhile, AmBank Group Research also expects BNM to continue to hold steady its OPR in the upcoming Monetary Policy Committee (MPC) meeting this week in order to assess the impact of previous OPR hikes on the real economy.
Like StanChart, the research house also projected the central bank to raise the OPR by another 25 basis points in 2Q 2023 or beyond to the pre-pandemic rate of 3%.
"We view the probability of a rate hike in March 2023 has dissipated as compared to our earlier assessment at the beginning of 2023," noted the local banking group.
"Determining the lag effect from the rate normalisation that had taken place since May 2022 may require a longer time frame. Our analysis shows the impact of the interest rate hike would take effect within eight to 10 months." – March 7, 2023