VETERAN journalist and blogger Datuk A. Kadir Jasin has taken a pot shot as to how the administration of former premier Tan Sri Muhyiddin Yassin could be so lax in its implementation of the Jana Wibawa programme which was established to expedite the business recovery of Bumiputera contractors in the post-COVID period.
Summing up on the case of businessman Datuk Teo Wee Cheng who landed in hot soup for allegedly soliciting bribes worth RM12.8 mil and receiving RM1.5 mil connection with the Jana Wibawa programme, Kadir penned a stinging two-liner on his Facebook page:
"The intention was to economically empower credible Bumiputera contractors. But the Chinese Datuk also has a share".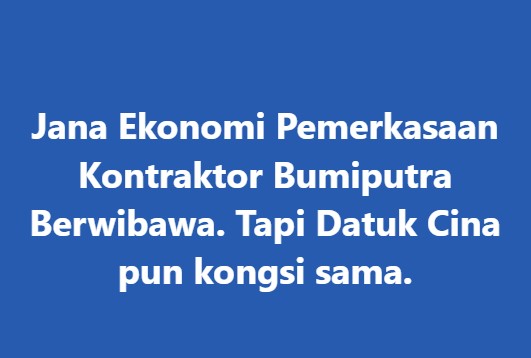 Elaborating further on the founder of the Muar-based listed furniture maker SHH Resources Holdings Bhd, Kadir made a juicy revelation in that Teo's company is based in Pagoh which happens to by the parliamentary constituency of Muhyiddin who is also the Bersatu president and Perikatan Nasional (PN) chairman.
"Teo Wee Cheng is a director of SSH Furniture Sdn Bhd, a company located in Pagoh, Johor."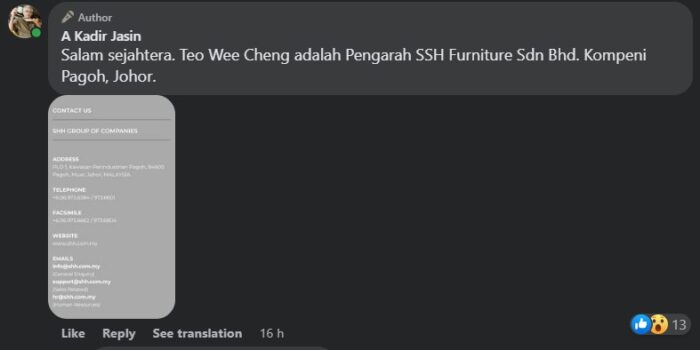 This unpleasant discovery made Kadir wondered how Bumiputera businesses can progress if those who are supposed to be credible are subject to bribery by their own race and other races.
"This is the outcome when looking for a credible Bumiputera with your eyes closed (and your brains, too). What is found at last is an apek (slang for elderly Chinese man)!" lamented the former Bersatu supreme council member.
For context, Teo, 65, has claimed trial in the Johor Bahru Sessions Court yesterday (Feb 22) to nine charges of soliciting and receiving bribes in relation to the Jana Wibawa scandal.
He is the third person to be charged in court in connection to the Program Jana Ekonomi Pemerkasaan Kontraktor Bumiputera Berwibawa after former Bersatu information chief Datuk Wan Saiful Wan Jan and Bersatu deputy division chief of Segambut Adam Radlan Adam Muhammad (who is a cousin to Muhyiddin's son-in-law Datuk Adlan Berhan).
Mooted during the 17-month PN administration at the height of the COVID-19 pandemic, the Jana Wibawa programme was intended to improve the capacity of Bumiputera contractors in the construction industry as well as to expedite project execution to spur the nation's economic recovery post COVID-19.
The Malaysian Anti-Corruption Agency (MACC) is currently investigating claims that contractors chosen for the programme were required to allegedly deposit money amounting to RM300 mil in Bersatu's party accounts.
As for Teo who presumably has been released on a RM500,000 bail, the second largest shareholder of SHH Resources with a stake of 17.3% has resigned as managing director of the company a day prior to his court case (Feb 21), citing "other personal reason".
His void was filled up by his daughter Teo Chee Teng, 25, who has just joined the company upon her graduation from the University of Melbourne in July 2022, according to a Bursa Malaysia filing by the company.
At the close of yesterday's trading, shares of SHH Resources fell nine sen or 13.85% to 56 sen with 258,200 shares traded, this valuing the company at RM56 mil. – Feb 23, 2023
Main pic credit: Astro Awani