"IS IT wrong for any political party to accept donations from any quarters when such action is not deemed to be illegal?"
Such is the question posed by Machang MP and Bersatu Youth chief Wan Ahmad Fayhsal Wan Ahmad Kamal as to why the unity government is zeroing in only on the party's president and former premier Tan Sri Muhyiddin Yassin when other political parties have also been receiving donations from corporate tycoon Tan Sri Syed Mokhtar Al-Bukhary.
"The recent actions taken by the Prime Minister (Datuk Seri Anwar Ibrahim) by only targeting TS Muhyiddin given that his party Bersatu has received donations from TS Syed Mokhtar has raised many questions," he told HarakahDaily when met at the Shah Alam courthouse this morning.
"This is because TS Syed Mokhtar has also contributed to other political parties (in Malaysia). Due to charges involving the donation of political funds amounting to RM5 mil through a cheque by the Bukhary Ekuiti Capital, Bersatu's account was eventually frozen."
Added the former Deputy Minister of National Unity: "This is a selective charge and political victimisation given all political parties receive donation or funding for elections. Why is only Bersatu being investigated like this? Do also investigate UMNO and other parties that received contributions from TS Syed Mokhtar."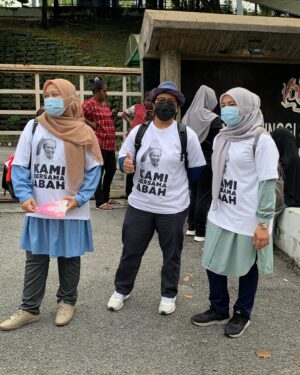 Earlier today, Muhyiddin who is the Pagoh MP was further slapped with one count of money laundering involving RM5 mil linked to the Jana Wibawa programme at the Shah Alam Sessions Court in which he claimed trial.
The money laundering charge laid out under Section 4(1)(b) of the Anti-Money Laundering, Anti-Terrorism Financing and Proceeds of Unlawful Activities Act 2001, read with Section 87(1) of the same Act, accused the 76-year-old of receiving RM5 mil in proceeds from the illegal activities of Bukhary Equity Sdn Bhd which went into Bersatu's account on Jan 7, 2022.
Earlier on Friday (March 10), Muhyiddin also pleaded not guilty and claimed trial at the Kuala Lumpur Sessions Court to four counts of abuse of power and two counts of money laundering involving RM232.5 mil linked to the Jana Wibawa programme.
The KL Sessions Court judge Suzana Hussain had ordered Muhyiddin to pay RM2 mil bail and set May 26 for re-mention of his case. Following the former Johor menteri besar's personal request, his next hearing will be moved back to the Kuala Lumpur Sessions Court (from the Shah Alam Sessions Court) on May 23.
Wan Ahmad Fayhsal further expressed confidence in winning the court case/s "although it may still be too early to have high hopes" given that Muhyiddin had repeatedly stated that "we didn't do anything wrong".
"The trial has encountered some delays because the prosecutor still does not have enough documents to identify the charges and conduct a proper trial. Such effect will raise various questions but let the people judge the rest," he added. – March 13, 2023