FIGHTING for his dear life with stage four lung cancer, the 15th General Election (GE15) could well be the final battleground for activist extraordinaire Haris Ibrahim. 
Seeking no sympathy whatsoever for his ailing health, the founder of the "Anything But UMNO (ABU)" movement who was diagnosed with stage four lung cancer at the age of 63 on April 4 this year still insists on calling upon Malaysians to uphold the ideals of his five-pillar reform agenda. 
"This is achievable during one term of a responsible government; I urge all Malaysians to take this five-pillar reform agenda as their own reform wishes during the GE15 and measure candidates against these five pillars," he asserted.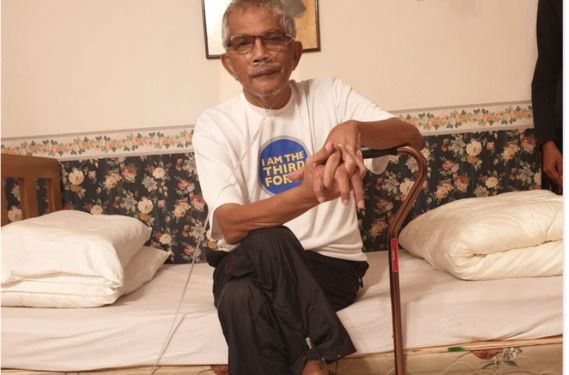 The five pillars advocated by Haris are as follows: 
Pillar One: Ending divisive politics 
"It is extremely important that all of us come together with a collective voice no more but first understand the history and reason why I say there is no basis to divide us along racial lines and no basis for pushing the concept of Negara Islam (Islamic State) in this country." 
Pillar Two: MA63 – Delivering to Sabah & Sarawak all that was promised without further delay 
"Our brothers and sisters in Sabah and Sarawak have been denied their rights since 1963. We should understand what are the priorities and rights that they wish to receive from the next government and then we in the peninsular will support them on this specific reforms." 
Pillar Three: Restoring all guaranteed freedom back to the rakyat 
"Restoring our fundamental rights and liberty ought to be done in the previous government but unfortunately it was not, hence we still see the Sedition Act being used … all of which must stop." 
Pillar Four: Restoring all institutional power back to the rakyat 
"We've seen how the Federal Court handled very controversial cases which we are proud of … but can we say the same about MACC (Malaysian Anti-Corruption Commission)? All these institutional power must be returned back to the people, just as the judiciary belongs to us, the MACC should also belong to us." 
Pillar Five: Establishing a needs-based affirmative and poverty eradication policy and programme  
"We've had 40 years of New Economic Policy (DEB) which is race-based and yet poverty is so predominant in the country; having had enough of this, let's have a merit-based affirmative programme given we already have a private member bill in Parliament waiting to make this law." 
"I hope all of us will allocate some time to look at these five pillars of reform agenda and can see its value that together this election we tell politicians what we want and what to stop them coming and telling us what is it they are going to do for us all," added Haris. – Oct 21, 2022