FINANCE Minister Tengku Datuk Seri Zafrul Tengku Abdul Aziz left the Finance Ministry (MOF) at about 2.30pm for Parliament to unveil Budget 2023 scheduled for 4pm today.
Clad in a turquoise Baju Melayu, he was holding a black envelope containing the Budget 2023 speech text, according to Bernama.
Accompanying Tengku Zafrul to Parliament were his deputies Datuk Mohd Shahar Abdullah and Datuk Yamani Hafez Musa.
Themed "Strengthening Recovery, Facilitating Reforms Towards Sustainable Socio-Economic Resilience of Keluarga Malaysia", Budget 2023 is very much touted as an election budget given that the 15th General Election (GE15) has to be held by September 2023 latest.
The services sector is poised to be the main contributor to 2023 GDP growth which is anticipated to expand by 5.0% in 2023. Budget 2023's allocation is RM372.3 bil or 3.4% lower compared to RM385.3bil in Budget 2022.
The top three recipients of Budget 2023 are the Finance Ministry (RM67.2 bil), Education Ministry (RM55.6 bil) and the Health Ministry (RM36.1 bil).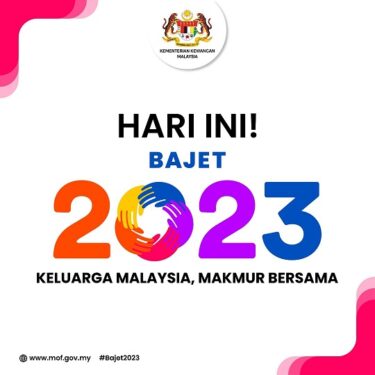 The eonomy is expected to slow to between 4.0% and 5.0% in 2023 from 6.5% to 7.0% in 2022.
The Income Tax rate for individuals will be reduced by two percentage points.
The Government may extend the statutory debt limit of 65% of GDP in the medium term after the expiry of Act 830 on December 31, 2022.
RM272.3 bil allocated for management spending, RM95 bil for development, RM5 bil under the COVID-19 Fund and RM2 bil as contingency savings.
As part of the M40 e-Pemula initiative, e-Wallet credit worth RM100 for the M40 group with an annual income below RM100,000, benefiting eight million individuals.
RM11 mil is allocated to increase screenings through mammogram subsidy and cervical cancer screening.
Those with an income up to RM1,169 can expect an electric bill subsidy of up to RM40.
Monthly aid from Social Welfare Department totalling RM2.5 bil to benefit over 450,000 households.
Bantuan Keluarga Malaysia (BKM) increased to RM2,500 for families with five children and above; RM1,000 to RM2,000 for families with five children and below. Seniors and singles are to receive between RM300 and RM600.
RM55.6 bil has been allocated for education, the biggest allocation in the budget for a ministry.
Voluntary EPF contributions raised from RM60,000 to RM100,000 a year.
The Government will be allocating RM50 mil for the young trader scheme under Bank Simpanan Nasional (BSN) and RM305 mil in loans for youths to start businesses.
Income tax exemptions for five years (from 2023 to 2028) for women who return to the workforce after taking a "career break". Those in RM250,000-RM400,000 income tax range together with the RM400,000-RM600,000 range will be subject to a 25% tax rate.
The Government will subsidise the costs of obtaining operating licences for taxis, buses and e-hailing vehicles through the MyPSV initiative.
RM8 mil for social support centres to help victims of domestic violence or those experiencing mental health issues with the help of NGOs like PS The Children. These will be early intervention centres providing psycho-social counselling.
Putrajaya will also allocate RM235mil funds to help women build or upgrade and market their businesses. The Securities Commission (SC) will offer training programmes to increase the number of women on boards and leadership positions.
In order to combat and eradicate poverty, the Government will allocate RM1 mil for the effort.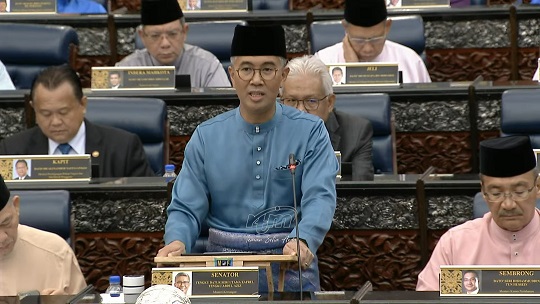 • RM825 mil is allocated for Early School Assistance programme, an increase to RM150 from RM100 for each student regardless of the parents' income limit.
• RM777 mil is set aside for the Supplementary Food Plan (RMT) to ensure that students get daily nutritional content, benefiting 800,000 students (RM3.50 per pupil in the peninsula and RM4 in Sabah and Sarawak).
• RM1.2 bil is allotted to upgrade dilapidated school buildings and infrastructure, especially in Sabah and Sarawak.
• My50 monthly pass initiative for public transport users, set to benefit close to 180,000 users.
• RM209 mil allocation for air travel subsidy for rural Sabah and Sarawak.
• Government to bear the cost for B40 youth to obtain taxi, bus and e-hailing licenses under the MyPSV programme.
• One-off RM500 cash aid for mothers from BKM households who give birth in 2023.
• A total RM3.8 bil will be allocated for scholarships and education loans.
• PTPTN loan repayment exemption for degree students who graduate first class.
• PTPTN borrowers who settle their loans in full will receive discounts of up to 20%.
• Borrowers who pay at least 50% of their loan or make scheduled direct debit payments will receive a 15% discount.
• The discount for repayments will begin from November 1, 2022, to April 30, 2023.
• All self-employed workers must contribute to SOCSO.
• RM150 mil allocated for employment incentive, RM600-RM700 a month for three months for marginalised groups such as the disabled (OKU), ex-convicts, Orang Asli and women to rejoin the workforce.
• Government will bear 80% of the SOCSO contribution. Food delivery personnel, farmers, fishermen, artists under FINAS and hawkers need to contribute only 20% of the total contribution. This will be further expanded to gig economy workers and taxi drivers.
• SOCSO to provide RM1,000 mobility assistance for employees from Sabah and Sarawak with jobs in the peninsular and vice versa.
• Government to allocate over RM55 bil for subsidies, aid and incentives to alleviate the cost of living.
• Amanah Saham Bumiputera's (ASB & ASB2) investment limit was raised from RM200,000 to RM300,000.
• i-Saraan extended to 2023; matching contribution up from RM250 to RM300.
• The taxation rate for micro, small and medium enterprises (MSMEs) for the first RM100,000 will be reduced to 15% from 17% in the 2023 assessment year.
• The Orang Asli community will receive an allocation of RM305 mil for social aid and to improve their livelihoods.
• Parents will receive tax relief of up to RM3,000 for preschool and kindergarten school fees for the 2024 assessment year.
• RM10 mil allocation for travel vouchers via e-hailing services for special needs individuals.
• Allocation of RM20 mil to improve facility and teaching tools for special needs schools.
• Beginning 2023, RM180 mil is set aside for city bus (bas henti-henti) to add more routes in Melaka, Kota Kinabalu and Kuching; and replace 18 MARA buses in Kedah.
• Government will improve the infrastructure at seven airports in Sabah and Sarawak by building the wheelchair ramp, benefitting 2,300 community members who use a wheelchair with MASwings, the regional airline operating the Rural Air Services in East Malaysia.
• RM90 mil for JKR Sipitang in Kelantan to replace the 34-year-old ferry between Tak Bai in Thailand's Narathiwat Province and Pengkalan Kubor in Kelantan's Tumpat District for the benefit of some 30,000 Tumpat residents.
• Excise duty and sales tax exemption expanded from only individual taxi owners who change ownership or dispose of their taxi to include owners of exclusive taxis and airport taxis.
• Health sector will receive a bigger allocation under Budget 2023 with RM36.1 bil from RM32.4 bil under Budget 2022.
• RM1.8 bil will be allocated to build hospitals, clinics and new facilities as well as procurement of medical equipment.
• The Kuala Lumpur Hospital and Tunku Azizah Hospital which are designated as centres for rare diseases will receive an allocation of RM25 mil for next year.
• RM10 mil is allocated to transform the nation's capital under the Strategic Urban Policy Adviser Think City.
• RM25 mil in the form of rebates as an incentive for the people to travel locally. Rebates of up to RM100 will be given in the form of discounts and vouchers for accommodation, tourism packages, handicrafts and artworks.
• The Government will allocate RM200 mil for tourism promotion and marketing in addition to focusing its efforts on attracting high-value tourists and niche markets.
• Import duty and sales tax of nicotine replacement therapy products will be exempted.
• Purchase of houses worth from RM500,000 to RM1 mil will get an increase in stamp duty exemption from 50% to 75% until December 31, 2023.
• Stamp duties for the transfer of property between families is subject to a stamp duty of RM10.
• RM100 mil allocation to extend Keluarga Malaysia Cheap Sales programme.
• RM10 mil allocated for the AgroPenjara programme involving convicts going into agricultural activities and involving 70ha of land in Malaysian prisons.
• RM256 mil for rainy season assistance for rubber smallholders will benefit some 320,000 farmers.
• RM1.8 bil allocation for subsidies and incentives for paddy farmers, fishermen and smallholders.
• RM73 mil will be allocated to strengthen the country's cybersecurity due to the rise in scam cases.
• The Government will allocate RM20 mil to build two new Urban Transformation Centre (UTC) and maintain existing ones.
• Monthly cost of living allowance for JPA scholars in the country raised by RM100.
• MySTEP programme extended to Dec 2023; salary raised by RM100.
• Government proposes to expand the scope of existing tax incentives for individual investors in start-up companies through equity crowdfunding.
• The Government will continue the Recovery and Support Through Equity Scheme or RESET and the Working Capital Scheme under Bank Pembangunan Malaysia with a total fund of RM1 bil.
• HRD Corp to provide RM750 mil to upskill over 800,000 workers.
• PETRONAS plans to contribute RM2 bil to Kumpulan Wang Amanah Negara in 2023.
• The National Disaster Management Agency (NADMA) will receive RM174 mil under Budget 2023.
• Government will increase civil servants Gaji Tambahan Khas by RM100 next year for those in Grades 11 to 56.
• Special financial aid of RM700 each for 1.3 million civil servants in Grade 56 and below.
• One million government pensioners will get RM350.
• Aidilfitri special aid assistance for next year increased to RM600 and is to be paid in March.
• RM50 mil has been allocated for Pelaburan Hartanah Bhd for the commercial development of Bumiputera properties.
• Up to RM9 bil through business financing guarantee companies to enable SMEs to get financing.
• RM10 bil from Bank Negara Malaysia (BNM) for SMEs for automation, digitalisation, tourism and agriculture.
• RM45 bil for Semarak Niaga Keluarga Malaysia.
• RM228 mil assistance to benefit 240,000 paddy farmers.
• RM1 bil to fund RM1,000 one-off grant for registered SMEs and registered taxi drivers, to benefit one million people.
• RM200 mil allocated for the tourism sector.
• RM90 mil allocation to boost tourism and tourism activities, including chartered flight services, especially from the Middle East and East Asia.
• RM25 mil for domestic tourism which includes discounts, vouchers and rebates of up to RM100.
• RM90 mil for travel promotion matching grant (Geran Padanan Galakan Melancong, Gamelan) for promotional campaigns and marketing as well as tourism programmes such as international sports events.
• RM20 mil for Malaysia Healthcare Travel Council to promote the country as a premier healthcare travel destination.
• Allocation of RM1.5 bil for the management and development of Islamic religious affairs.
• RM150 mil for the maintenance of education facilities under JAKIM such as people's religious school (SAR), tahfiz and pondok schools.
• Special one-off payment of RM500 for KAFA teachers, takmir teachers (and mosque leaders) imam, bilal, siak, noja and marbut.
• Phase 2 of MRT 2 is expected to be operational in January 2023.
• Smallholders will be allocated RM315 mil under Budget 2023 to replace old rubber trees.
• RM145 million to maintain, upgrade and build sports facilities.
• RM15 bil allocated for flood mitigation plans until 2030 with RM700 mil allocated for 2023 alone.
• RM400 mil allocated to National Disaster Management Agency (Nadma) to increase disaster preparedness.
• RM100 mil will be allocated for the Jualan Murah Keluarga Malaysia programme where groceries and daily necessities will be sold at 20% cheaper compared to the normal retail price in 600 DUN and 13 Federal Territories Parliament constituencies.
• RM10 mil allocated to Think City for KL rejuvenation initiative to transform Kuala Lumpur into a creative and cultural hub.
• Defence Ministry gets RM17.4bil total allocation.
• RM4 bil for procurement and maintenance of Armed Forces assets.
• RM118 mil for maintenance of Rumah Keluarga Angkatan Tentera (RKAT).
• RM47 mil for two additional field hospitals in Kluang and Kota Kinabalu to face any national disaster.
• 50 ambulances will also be placed at army bases to assist in any disaster aid.
• RM431 mil for the police to improve public order in terms of maintenance and acquiring new assets.
• RM42 mil to repair and upgrade police quarters.
• RM18 mil allocated for Prisons Department to acquire body scanners and upgrade facilities.
• RM28 mil to resume Prisons Department quarters projects.
• RM485 mil to maintain all Malaysian Maritime Enforcement Agency (MMEA) ships and boats
• 50% discount on Prasarana public transport for 21,000 Armed Forces and Police veteran card holders in Kuala Lumpur, Selangor, Pahang and Penang.
• Under Jendela Phase 2, the Government plans to provide 100% Internet coverage in populated areas and fibre optic coverage to nine million premises nationwide by 2025, with an investment of RM8 bil (including industry contributions).
• For 2023, the Jendela initiative has been allocated RM700 mil to ensure digital connectivity in 47 industrial areas and almost 3,700 schools.
• Digital Nasional Bhd (DNB) will expand 5G coverage to cover 70% of highly populated areas, with spending on infrastructure to cost RM1.3 bil in 2023.
Budget 2023 is the country's second-largest ever at RM372.34bil, up 12% from last year. Whilst development expenditure is at RM95bil, its highest ever, while opex for 2023 is down to RM272.34bil. – Oct 8, 2022
Main photo credit: Malay Mail