THE Center to Combat Corruption and Cronyism (C4 Center) has expressed deep concern over recent developments in the campaigning for the upcoming state elections which indicates a backslide to unsavoury methods previously used in Malaysian political history.
The issue revolves around an announcement made by Rural and Regional Development Minister Datuk Seri Ahmad Zahid Hamidi on Friday (July 28).
It was widely reported that certain federal allocations were promised to Terengganu youth groups and he expressly indicated that the amounts might be increased depending on the results of the state polls.
"Prime Minister Datuk Seri Anwar Ibrahim has also defended this initiative, stating that the allocation had been pre-planned and maintained that there would not be any misuse of funds during election campaigning," claimed C4.
In response to public concerns, the Malaysian Anti-Corruption Commission (MACC) chief commissioner Tan Sri Azam Baki asserted that these grants were not an offence as they were approved by the federal government and thus lacked elements of bribery.
He further contended that existing legislation, specifically Section 10 of the Election Offences Act 1954 (EOA) is sufficiently clear and stringent regarding corrupt practises.
However, C4 Center pointed out the absurdity of Azam's response and called for a closer examination of Section 10 of the EOA, which covers the "corrupt practice" of bribery.
"Section 10 covers the "corrupt practise" of bribery and includes the offering or promising of any money or valuable consideration for any elector or voter, which could reasonably be interpreted in a manner that covers Zahid's actions," noted C4 Center.
According to C4 Center, certain EOA offences are deemed to be "prescribed offences" under the MACC Act 2009 (MACC Act), over which the MACC is empowered to exercise all investigative powers available to it.
"Given that credible information on Zahid's announcement has been widely reported, specifically mentioning the potential for an increased amount of funding to particular youth groups depending upon the results of the election, it is incumbent upon the MACC to at the very least initiate investigations into the alleged offence," said C4.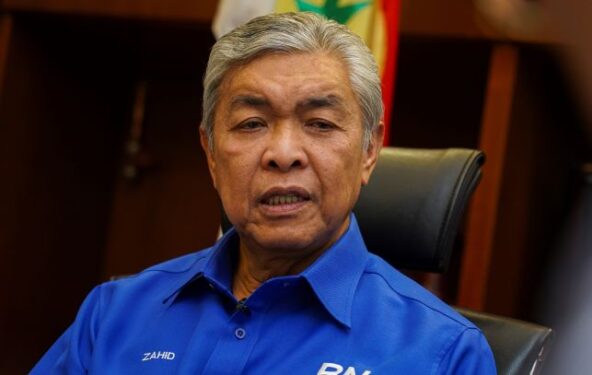 Moreover, C4 Center is of the opinion that Azam's claim on the federal government-approved allocations lacks any element of bribery, is devoid of legal foundation and contradicts the core principles of combating corrupt practises as outlined in both Acts.
"While Azam is correct in noting that Section 10 of the EOA outlines the "do's and don'ts" for election candidates, his unwavering belief that Zahid's actions do not violate any laws without conducting any inquiries, reflects a misinterpretation of the legislation he cited."
C4 Center stated that it is disappointing that Anwar also failed to recognise any wrongdoing in his Deputy's behaviour. The PM's assertion that the Cabinet decided against using public funds for election campaigning loses meaning when Cabinet Ministers seemingly face no consequences for doing so.
C4 Center further added that each existing check and balance mechanism is failing to take Zahid to task, which only serves to entrench and perpetuate improper practises during election campaigning, contrary to the Anwar administration's stated commitments.
Furthermore, C4 Center urged urgent reforms to ensure the independence of the MACC, including the replacement of Azam, whose leadership has faced criticism for dwindling credibility.
They also urged for investigations to be commenced into Zahid's announcement by the MACC in order to ascertain whether an election offence has indeed been committed and if not, the MACC must explain why it does not intend to address a potential offence that falls within its statutory mandate.
As the PRN approaches, the spotlight remains on the need for transparent and ethical conduct in the electoral process.
The public awaits the MACC's response to the call for investigations and potential reforms to uphold the integrity of the election process and combat corrupt practises effectively. – Aug 3, 2023
Main photo credit: Kosmo