FIRST the good news: Prime Minister Datuk Seri Anwar Ibrahim has confirmed last night (July 31) that he will meet with MIC President, Tan Sri S.A. Vigneswaran and all MIC state/division leaders to sort out their 'misunderstanding' with UMNO.
This, according to Pakatan Harapan (PH) chairman is to ensure that the component party of Barisan Nasional (BN) can work as a team alongside UMNO and PH to create political stability in this country.
According to a leaked internal circular signed by party secretary-general R.T. Rajasekaran, "all state/division chairmen must bring their Committee Members, including the Youth, Wanita, Putera & Puteri leaders" to attend the 12 noon meeting with Anwar tomorrow (Aug 2) at the MIC headquarters in Kuala Lumpur.
"This is so that they don't misunderstand (the concept of) working as a team. There are many Indians in DAP, Keadilan (PKR) as well as MIC … brothers, do remember that these days we think to save the country," Anwar who is also the PKR president pointed out during a political gathering for the Jeram Padang state assembly constituency last night (July 31).
At the same time, Anwar also reprimanded some quarters within the Indian community against using the ballot papers to vent their anger just because they disagree with some matters.
"… regardless of whether the Malays, Chinese or Indians, it is my duty, my power and responsibility to help everyone in trouble regardless of whether they are Malay or Indian," he pledged.
"I wish to tell the Indians not to waste their votes … if you disagree on one or two things, we can resolve them but don't (waste your votes) … you are not going to get a fair team of leaders like what we are trying to do now."
Mistreatment by UMNO
Now the not so pleasant news: An MIC source has claimed that the party is unhappy with the way they were treated by UMNO – the dominant party in BN – during seat negotiations for the Aug 12 state assembly elections in six states.
The alleged mistreatment is said to have taken place prior to MIC deciding to sit out the six state elections.
"MIC members have been told to ask Indian voters to boycott UMNO candidates in retaliation. Anwar is supposed to pacify them," the source who spoke on condition of anonymity told the Free Malaysia Today news portal.
However, MIC president Tan Sri S.A. Vigneswaran has denied claims that 20 of the party's divisions in Selangor will support Perikatan Nasional (PN) in the upcoming state polls.
This follows a claim by Selangor PAS secretary Roslan Shahir Mohd Shahir that leaders from 20 Selangor MIC divisions had held a meeting with the PN leadership to express support for the coalition.
Roslan had further claimed that leaders from MCA Kapar and several other divisions had also met the PN candidates to express their support. Previously, it was reported that 50 MIC leaders from Selangor have supported PN candidates in the state.
The group led by former Ijok state assemblyman K. Parthiban claimed that they switched camp to PN after MIC was treated unfairly by BN and PH in addition to claiming that the coalition ignored the plight of Indians in the state.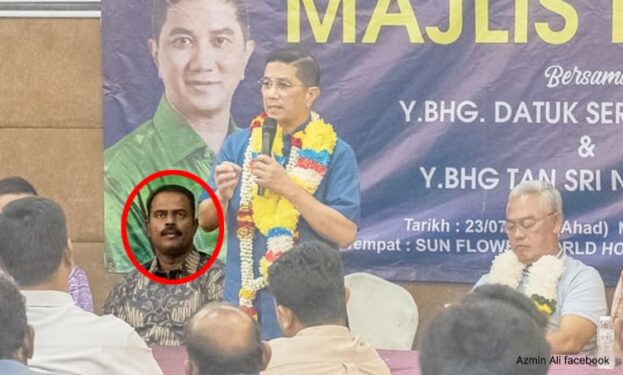 Parthiban further appeared on the PN stage alongside Selangor PN chairman Datuk Seri Mohamed Azmin Ali in Tanjung Karang on July 23. In his speech at the ceremony, Azmin said Parthiban has been appointed to head the secretariat of PN Indian Supporters' Club and be responsible for the North Selangor zone.
Following that, Parthiban who is also a member of the MIC central working committee (CWC) has been suspended with immediate effect. – Aug 1, 2023