PROPERTY consultants Nawawie Tie Leung expect continued challenges for the residential sector in the short term as affordability remains a key issue, exacerbated by the rise of interest rates and soaring construction costs.
But even as overhang units remain on a high note – without any incentives that would prompt the purchase of these units – Nawawie Tie foresees that the market will continue to be competitive.
In its Q3 2022 report on the real estate market, the firm noted that there was no completion of retail projects in the quarter under review as developers are still recovering from the country's labour shortage and the soft residential market. 
"There are some projects originally scheduled for 2021 that are still pending completion. These developments are experiencing minor delays in their completion," it said in the report's market commentary on the residential sector.
This includes Tower A of 8 Conlay's YOO8, which is expected to be completed by early 2023. The Branded Residence has achieved 80% take-up of its total 564 units for tower A. 
In the same pipeline, MET 1 Residence of KL Metropolis is expected to join the list of completed projects soon as the development is on track for completion by Q4 2022. The upcoming development will offer 616 units ranging from 677 to 1,613 square feet (sq ft) within a 55-storey building. 
The residence will integrate with an office tower, Somerset serviced apartments and a three-level retail mall, all of which are still under development as well.
On the other hand, Eastern & Oriental Bhd has launched a low-density condominium at Jalan Teruntung in Damansara Heights, known as The Peak. Developed on a 3.94-acre land parcel, it offers only 54 units ranging from 3,455 to 4,500 sq ft and priced between RM5.5 mil to RM8.6 mil per unit.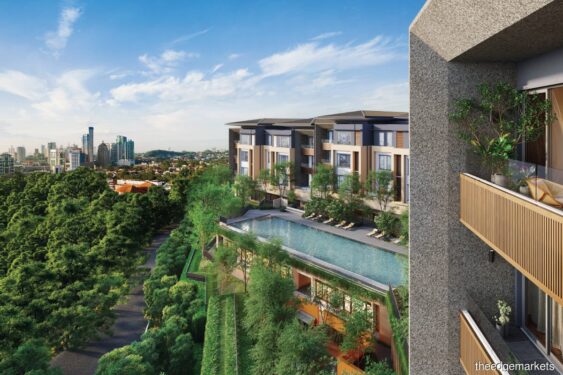 "In the current uncertain market and high construction costs, developers are looking to re-strategise their product placement," said Nawawie Tie. 
"Tweaked designs"
"To be competitive in product pricing, developers are looking to simplify and tweak their designs to be more efficient in material consumption and focus on more achievable selling prices."
As such, in Q3 2022, both asking prices and asking rentals for selected existing high-end condominiums registered a slight increase of 2% (RM985) and 1.8% (RM3.41), respectively. 
In its market outlook for the residential sector, the firm noted that the Statistics Department announced it would undertake a household income, expenditure and basic amenities survey involving 92,000 households. 
The results are expected to be published in Q1 2023 and used by key market players in designing new launches to tackle affordability issues in Malaysia. 
"To further stimulate the primary residential market, (caretaker) prime minister Datuk Seri Ismail Sabri Yaakob reintroduced a 100% stamp duty exemption for first-time homeowners of properties priced at RM500,000 and below through the i-MILIKI initiative, which would last till December 2023," Nawawie Tie added.
"Hence, we expect this incentive may encourage first-time homebuyers (to buy properties), despite the rising cost of borrowing."
Meanwhile, in its market outlook for the investment sector, Nawawie Tie said Q3 2022 was a good quarter, with total investment sales improving by 224% quarter-on-quarter (qoq) but dropping by 22% year-on-year (yoy).
"Overall, this has been a good quarter in terms of activities, and going forward, investors will be closely watching developments on the political front as the general election draws closer," it noted.
"There is no sure sign that any of the political coalitions can form a strong Government on its own, and a lot of horse trading will be expected post-election, which will muddle up the recovery process." – Oct 30, 2022
Main photo credit: Shutterstock