THE Oscar fever is over but the award season continues to generate a lot of buzz with the first Malaysia Industry Awards (MINDA) set to take place on Aug 8 at the Berjaya Times Square Hotel in Kuala Lumpur.
MINDA is presented for the first time by the Federation of Malaysian Business Associations (FMBA) to honour local entrepreneurs and businesses that have achieved tremendous success and helped build the Malaysian economy.
"We want to champion local entrepreneurs and businesses by bringing in key industry leaders to recognise deserving industry players, especially those which have not been given enough recognition," commented the awards' organising chairman Sze Kok Hoong pointed out at the soft launch of MINDA recently.
"About 40 awardees will finally get recognised in various categories such as SME Awards, Corporate Awards, Recognition Awards, CSR Awards, Professional Services Awards, Media and KOL Awards, and Appreciation Awards."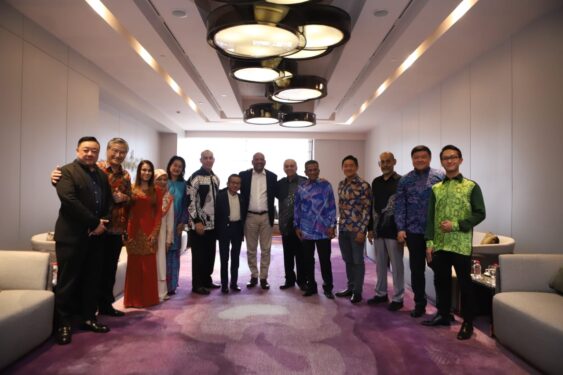 Supported by over 200 associations
MINDA is unique as it is supported by over 200 association presidents, namely the Kuala Lumpur & Selangor Indian Chamber of Commerce & Industry, the Malaysia Budget & Business Hotel Association, ASEAN Retail-Chains & Franchise Federation, Branding Association Malaysia and the Malaysia Retail Association, to name a few business groups.
"We want to groom the small and medium enterprises (SMEs) to be leaders in their own right. In other words, industry players honouring one another," Sze told FocusM.
"Through the MINDA platform, we are able to unite all 200 association leaders representing over 200,000 members as one voice to help boost and contribute to the Malaysian economy," he added.
The soft launch of MINDA was graced by the Community Communication Department (J-KOM) director-general Datuk Dr Mohammad Agus Yusoff, Federation of Malaysian Business Associations (FMBA) chairman Datuk Abdul Malik Abdullah and Sze himself. – May 20, 2023
Francis Yip is a fashionista and an award-winning writer and HRDF (Human Resource Development Fund)-accredited trainer. He is also the CEO of Franciswriter Dot Com and guest lecturer in The One Academy. 
The views expressed are solely of the author and do not necessarily reflect those of Focus Malaysia.