WHILE former health minister Khairy Jamaluddin tried his luck with ChatGPT – an OpenAI chatbot – but did not get the answer he wanted, FocusM did Khairy a favour by asking what a sacked politician like him should do next instead.
And true enough, the chatbot offered Khairy five options which include the formation of a new party and retiring from politics for good to live a private life.
To be fair to the chatbot, we did not feed it with information about the former Rembau MP's role in local politics but neither did Khairy who has sought the chatbot's help in deciding his political future yesterday (Feb 10).
Following his sacking from UMNO on Jan 27 for breaching party discipline during the 15th General Election (GE15), Khairy had asked: "Which party should Khairy Jamaluddin choose?" But the answer that he received from the chatbot did not amuse the former UMNO member who posted his response to the chatbot on his Instagram (IG) story.
The ChatGPT's response read: "As an AI language model, I do not have personal opinions or take sides in political matters. The decision of which political party to join is a personal one, and it depends on a variety of factors such as the individual's beliefs, values, and goals.
"Ultimately, it is up to Khairy Jamaluddin to decide which party aligns best with his own beliefs and principles and which party he feels will best serve his constituents and the country as a whole."
Khairy then captioned in his IG story which presumably has since been deleted: "ChatGPT is not really useful. I thought it will be of some help".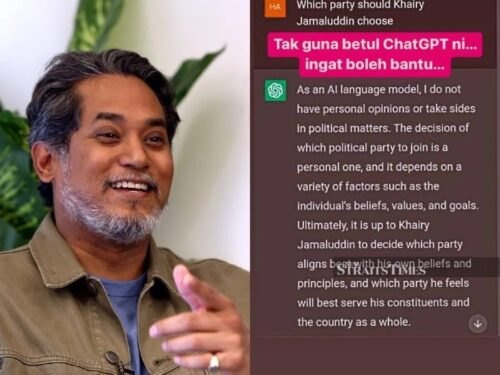 Maybe the former UMNO Youth chief showed a lack of understanding of the role played by ChatGPT but that did not deter FocusM from posing our own-structured question to the chatbot: "After being sacked by his party, what are the options for Khairy Jamaluddin?"
Voilà, we found the answers that Khairy was earlier looking for (see below):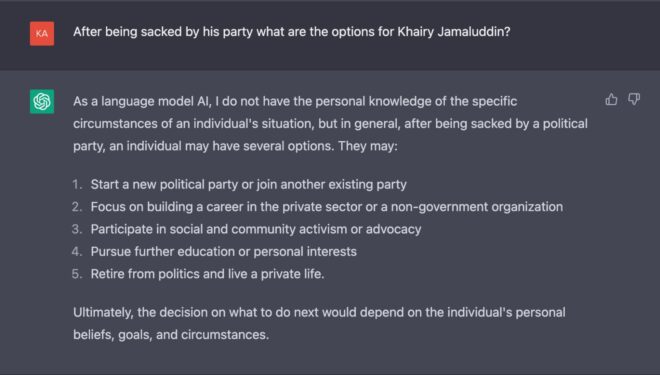 And the chatbot is absolutely right in stating that, "Ultimately, the decision on what to do next would depend on the individual's personal beliefs, goals, and circumstances".
For the uninitiated, Khairy has been keeping himself occupied since being expelled by UMNO with Media Prima Audio (MPA) having confirmed recently that he will start work as a radio presenter at Hot FM this coming Wednesday (Feb 15).
MPA stated that Hot FM's offer to Khairy was made through an open letter on Instagram last week for a radio presenter position who will be on duty every Monday to Friday from 6am to 10am.
With Hot FM's tagline "The Warmest and Best", MPA hopes that Khairy's presence as a pillar of 'Bekpes Hot' will give the radio channel fresh impetus.
Elsewhere, Johor Crown Prince Tunku Ismail Sultan Ibrahim has wasted no time to offer Khairy a new role as Johor Youth adviser just a day after he was shown the exit door by UMNO. – Feb 11, 2023