CHEF Wan Group of Restaurants (CWGR), a boutique restaurant chain specialising in premium cuisine, has officially unveiled its Pink October campaign in tandem with Breast Cancer Awareness Month.
The campaign aims to raise awareness about breast cancer and generate funds for cancer research.
As part of the launch event, a Pink October Charity High-Tea Event was hosted by the De.Wan restaurant recently for 150 distinguished guests and pre-registered customers. 20% of the sales proceeds from the high tea reservations will be donated to cancer research.
During the event, Cancer Research Malaysia (CRMY) CEO Andy Khoo delivered a speech detailing the organisation's ongoing efforts to combat cancer.
Malaysian celebrity chef and co-founder of CWGR, Datuk Redzuawan Ismail a.k.a. Chef Wan was also present to share his personal perspective and experience. Chef Wan was recently diagnosed with cancer and is currently undergoing treatment.
Adding a touch of elegance to the campaign, fashion designer Melinda Looi, along with former model-turned-fashion show director Yvonne Gabriel orchestrated a fashion show to complement the Charity Hi-tea Event. The runway show paraded cancer survivors as models in a display of resilience, beauty and strength.
Noritake, a renowned tableware brand known for its exquisite porcelain creations, also played a role by contributing luxurious crockery sets valued at over RM18,000 in support of the cause.
Complementing this, Bloop is also a sponsor for the high-tea event, enhancing the experience by welcoming guests with its captivating 'Faith Hope Live' fragrance mist as door gifts, thereby setting the tone for an evening filled with elegance and allure.
NARA Clinic is also a sponsor by providing its ELO Drinking Water which is known as the only oxygen-rich water in the world and has proven health benefits through rigorous scientific and clinical testing.
Honouring cancer survivors
"This year, we dedicate our efforts to fight cancer to my mother, Cik Ani, who was a brave soul lost to breast cancer. Her fight with breast cancer taught us valuable lessons – education, awareness, and early checks can save lives, even for those at average risk," shared Chef Wan.
"Cik Ani's impact runs deep, making our commitment to this cause all the more personal. She never gave up and was determined to fight cancer all the way. This gives me hope and inspiration in my own battle with cancer."
Added the celebrity chef: "Yet our mission goes beyond mere awareness. At Chef Wan Group of Restaurants, we turn every meal into a family-like experience. Therefore, this October, we hope to serve Malaysia by offering emotional support to those battling cancer and inspiring them to live life more fully."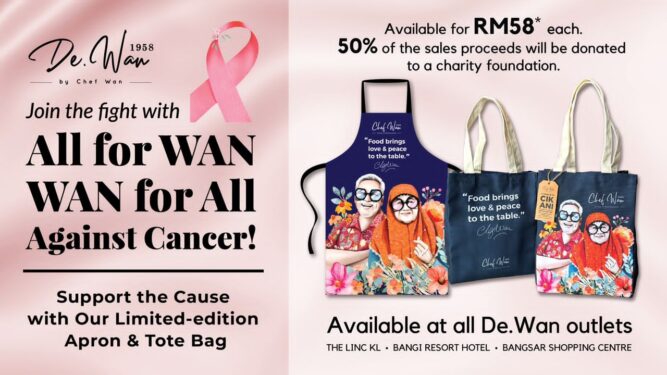 To honour the memory of Cik Ani's contribution to cancer awareness, the campaign will feature specially designed memorial aprons and tote bags. Priced at RM58 each, 50% of the sales proceeds will be donated to cancer research.
In addition, CWGR will introduce an exclusive pink dessert menu during the campaign which runs from Sept 25 to Oct 31 this year.
Dubbed "Pinky Promise", the menu features a creamy texture enriched with the bright, natural flavours of fresh pomegranate seeds and blueberries, along with pomegranate-flavoured custard as Chef Wan's fruity take on Pink October. This delectable creation will be made available at De.Wan 1958 by Chef Wan outlets.
Served alongside the "Pinky Promise" is a flaky, buttery croissant called "Croissants Go Pink" which will be exclusively available at Café Chef Wan outlets.
Finally, all De.Wan 1958 by Chef Wan and Café Chef Wan outlets will offer "Pink Me Up", a refreshing cocktail crafted from pineapple, pink grapefruit, lime and mint leaves. 10% of the sales proceeds will be donated to cancer research. – Sept 30, 2023