WITH Malay vote swing towards the 'green side' being very obvious in the Aug 12's six state polls, Johor with its reputation as a Barisan Nasional (BN) fixed deposit state is surely a testbed if the Pakatan Harapan (PH)-BN alliance has a remedy to stop the Perikatan Nasional (PN) green wave phenomenon.
Hence, PH-BN must chance upon the non-Malay electorate in the mixed seats of Simpang Jeram state and Pulai parliamentary by-elections on Sept 9 to prevent PN from making northern Johor its gateway into the state.
Both Simpang Jeram state and Pulai parliamentary seats fell vacant due to the demise of incumbent and former Domestic Trade and Cost of Living Minister Datuk Seri Salahuddin Ayub on July 23.
A look into the ethnic breakdown factor shows that PAS – on paper at least – stands a reasonable chance to regain the state seat it previously won during the 2008 and 2013 general elections against BN when the constituency was known as Sungai Abong.
This is assuming that the PN component party which recently won 105 seats out of 127 it contested (success rate: 83%) during the recent six state elections is able to woo the entire 51.87% of Malay voters from the total 40,379 eligible voters in the constituency to its side.
However, standing on the way of PAS' candidate Dr Mohd Mazri Yahya will be the Chinese voters who form 44.58% of the total eligible voters and the ethnic Indian electorate (2.53%).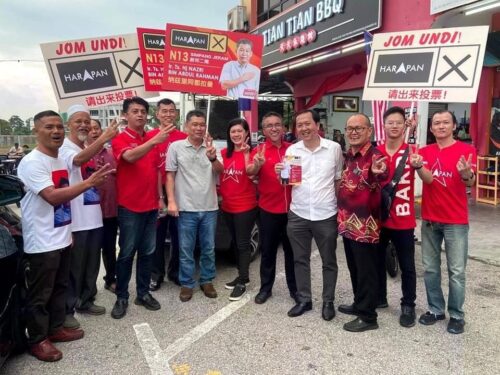 This means that the PH-BN election machinery must truly focus on rallying the Chinese and Indian voters to turn out in full force to vote for its Amanah candidate Nazri Abdul Rahman while 'praying' that the coalition can garner at least 10% of Malay votes especially from the UMNO grassroots.
The same argument applies for the Pulai parliamentary by-election which boasts eligible voting base of 166,653 and 2022 ethnic breakdown of Malay (44.5%), Chinese (40.2%), Indian (12.2%) and others (3.1%).
Even UMNO Youth chief Dr Muhamad Akmal Saleh has admitted that persuading party grassroots members to support PH in the Pulai parliamentary by-election has been a challenge.
He attributed the matter to the very fact that this was the first time that a BN candidate has not been fielded in the constituency.
"Of course we are facing a challenge because we are not standing this time around, when prior to this, we hadn't failed to field a candidate in Pulai," contended the Merlimau state assemblyman.
"However, we have our own strategy to sit with the grassroots members to explain to them why they need to support the PH candidate in Pulai as this is very important for the stability of the unity government."
Recently, Pulai UMNO division chief Datuk Nur Jazlan Mohamed was reported as saying that he would speak to branch leaders in Pulai who had reportedly rejected the PH candidate Suhaizan Kaiat.
This followed the supposed appearance of a banner declaring that UMNO branches in Pulai would not support Suhaizan. – Aug 29, 2023
Pics credit: DAP Johor