VENTURE Capital (VC) outfit Valuevest Ventures Sdn Bhd has initiated coverage on Computer Forms (M) Bhd (CFM) with a "buy" recommendation and a target price of RM3.60 which represents a 53.19% upside potential based on the positive impact of its joint venture (JV) with Energy Absolute Thailand PCL to produce and distribute electric vehicles (EV) in Malaysia.
The VC outfit believes that the CFM-EA PCL partnership will contribute positively to CFM's future earnings in the long run as Malaysia has a policy to reduce consumption of fossil fuels and increase the use of EVs by up to 37% within 2022-2040.
Prior to its diversification into the EV sphere, CFM is engaged in the printing and distributing of computer forms, stock forms, and specialised forms.
"Energy Absolute Malaysia Sdn Bhd (EA Malaysia) is currently a wholly owned subsidiary of CFM. Shareholders structure of EA Malaysia would eventually be 40% for CFM, EA PCL (40%), Datuk Wira Justin Lim Hwa Tatt (CFM's executive director) (10%) and other Thai investors (10%)," opined Valuevest Ventures in its latest research note.
Moreover, EA PCL has further agreed to partner CFM to transfer innovation, renewable energy (RE) experience and carbon credit to the Malaysian government in this first time ever capital investment to boost Malaysia's sustainability charter to achieve its Net Zero goal by 2050.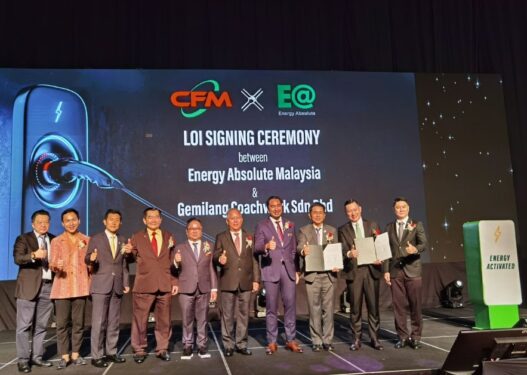 This is where Prime Minister Datuk Seri Anwar Ibrahim has acknowledged EA Malaysia's interest in supporting, investing and promoting the pilot project together with CFM to become an Asian leader in energy storage.
"The signing ceremony seals the RM5 bil investment pledge to set up a Malaysian manufacturing plant by the JV company to handle EV and RE projects using the core competencies of both public listed companies," opined Valuevest Ventures.
"We believe that the favourable global growth in CFM's major operating sectors is beneficial for the group earnings, especially in the long run. Additionally, EA PCL has a strong market capitalisation of 280 bil baht (RM36 bil)."
Elsewhere, EA Malaysia has also proposed to collaborate with Malaysia Airports Holdings Bhd (MAHB) by introducing EV battery for all MAHB ground and shuttle bus.
"Moreover, EA Malaysia will provide full maintenance coverage of the vehicle as well as vehicle yearly insurance. We believe that the collaboration will allow CFM to have a new income stream income to enhance its financial performance as well as to reduce dependence on its existing manufacturing business."
Apart from this, EA Malaysia has also proposed to replace existing aging Royal Malaysia Police (PDRM) police vehicles to EV vehicle in the quest to reduce carbon emission in the city.
At the close of today's trading, CFM was down 12 sen or 4.9% to RM2.33 with 4.1 million shares traded, thus valuing the company at RM623 mil. – March 6, 2023