A DOG was shot at point-blank range with what is believed to be a BB gun purchased from e-commerce sites.
According to a volunteer dog rescuer with the KC Valley Animal Care Shelter, Sani Ng Abdullah, 62, he immediately rushed to the scene after receiving a call from two women in Banting where the incident happened.
The dog had been lying paralysed for two days with more than 20 pellets in its body by the time Sani arrived at the scene. Gently, he lifted the dog which was already bleeding and placed it in a cage to be transported to a private veterinary clinic (see video).
The dog is currently under the care of the clinic in Subang Jaya. Removal of the pellets has to be done gradually one at a time and carefully so as not to paralyse the dog.
A police report has since been lodged with the police currently investigating the case under Section 29 of the Animal Welfare Act for cruelty against animals and and/or Section 36 of the Arms Act 1960 for the possession or importation of imitation firearms.
This brings to mind another case where five stray dogs were shot dead in Petaling Jaya in 2019. A month later, a 40-year-old contractor was picked up by the police.
Although the use of paintball markers, BB guns and airsoft guns for recreational and sports purposes are allowed, the owners must have a strong financial background and a paid-up capital of not less than RM400,000 as well as possess police permits.
Possession and importation of these imitation firearms is an offence punishable under Section 36 of the Arms Act 1960 with a jail sentence of not more than one year jail or a fine of RM5,000 or both.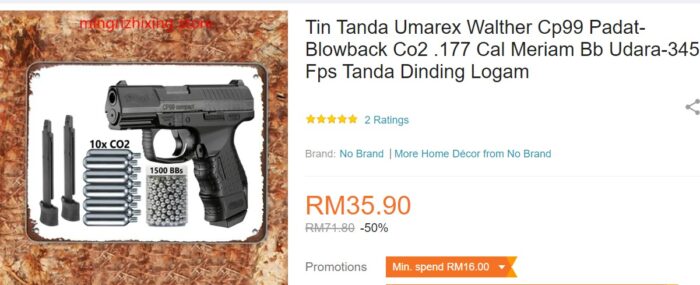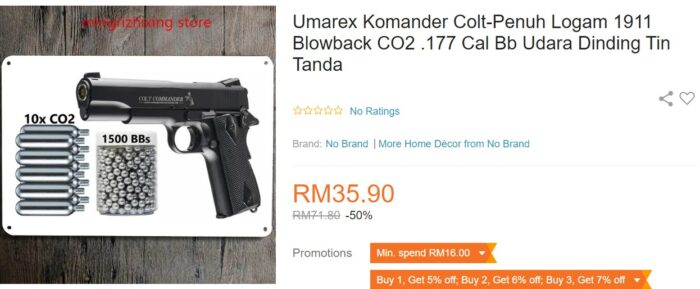 Since reported in the news, such imitation firearms (BB guns, airsoft guns, paintball markers, antique guns and pistol-shaped cigarette lighters) have been removed from being sold in the country.
In a report by Asiaone on Nov 26, 2013, the then Federal police Logistics Department director (now, Datuk Seri) Zulkifli Abdullah was quoted saying that all imitation firearms which resembled genuine ones must be turned in at any district police headquarters before December 25, 2013.
"Considering that there are many fake firearms in the country, we call upon their owners to turn them in to the police as it is illegal to keep them. It is an offence under Section 36 of the Arms Act 1960 to possess or import imitation firearms," Zulkifli had pointed out.
The recent incident in Banting goes to show that 'light' firearms are sold freely on some e-commerce sites, thus making it of greater concern to the public now, especially when imitation pistols can be used for robbery or other forms of mischief.
A check by FocusM shows that the guns are easily accessible on these e-commerce sites for as little as RM33.90. Parents are therefore advised to monitor the purchases made by their children.
The police will be able to access the database of people purchasing the imitation guns.
Meanwhile, Selangor deputy police chief Deputy Comm Datuk S. Sasikala Devi was quoted by The Star as saying that the police are now looking for those responsible for injuring the dog.
"We have ordered a thorough probe to be carried out. An investigation needs to be conducted to determine the type of arms or instrument that was used to inflict the injuries on the dog," she said.
When contacted, DCP Sasikala told FocusM that any member of the public with information about the shooting incident in Banting can immediately contact the investigating officer Inspector Norhidayah Mohd on her mobile 017-405 5363. – July 3, 2023.