PAS Youth deputy chief Afnan Hamimi Taib Azamudden has poked fun at UMNO as the party alongside its mono-ethnical rival PAS—two of the oldest political parties in Malaysia—are seemingly posting two separate sets of performance as they near their 100th year of establishment.
For the record, UMNO will celebrate its 77th anniversary this year while ushering in its 72nd anniversary of existence.
"After 61 years in power, UMNO fell and became the opposition for the first time in GE14 (the 14th General Election)," the Alor Setar MP penned on the PAS Facebook page.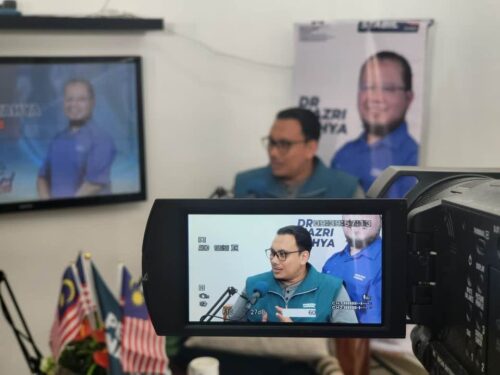 "In GE15, UMNO was once again punished by only being able to retain 26 parliamentary seats while altogether losing 89 state assembly seats. This is their lowest ebb in their 76 years of establishment."
Taking a swipe at the disappointing record of party president Datuk Seri Ahmad Zahid Hamidi, Afnan said not only was the damage severe "but has not been restored".
"It is not impossible that UMNO which has strayed from the struggle of Alif (religion), Ba (race), Ta (nation) will continue to be buried and punished by the people in GE16 before it is able to celebrate its 100th anniversary."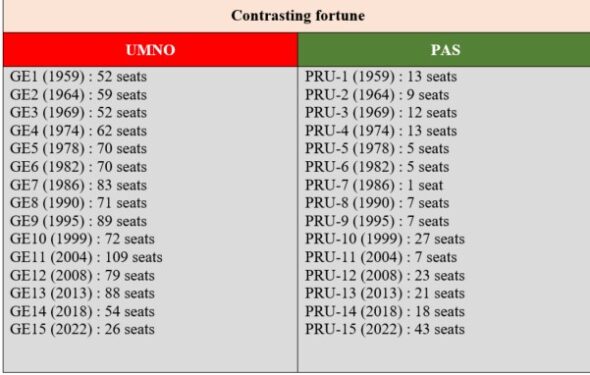 Different destiny
In contrast, PAS is going through an entirely different phase, according to Afnan.
"Accustomed to losing but continuing to fight in the political arena, PAS has never gave up on improving their party until it gained a place in the hearts of the people," justified the political secretary to Kedah Menteri Besar Datuk Seri Muhammad Sanusi Md Nor.
"PAS managed to win and maintain its victory in the state it administered. After decades of being in opposition, PAS was finally given the opportunity to be part of the federal government in 2020."
By retaining its excellent track record, PAS stepped forward in 2023 with a record 43 MPs and became the party with the most seats.
"A beautiful history throughout its 72 years of establishment!" commended Afnan who is the son of former National Mosque imam Datuk Taib Azamudden Md Taib.
"Certainly, this victory is not the end of PAS's struggle because this is only part of the road map to implement the goals of PAS' very own Master Vision of a Prosperous Nation (WINS) 2051."
Added Afnan: "PAS needs to utilise the remaining 28 years as best as possible to achieve this great ambition. God willing, WINS 2051 will be a gift for PAS on its 100th anniversary." – Sept 7, 2023