NO matter which part of the world, nothing gets tongues wagging like allegations of sexual misdemeanours. In the UK, the hot news is of comedian and actor Russell Brand allegedly raping and sexually assaulting women, some of whom were in his employ.
In Malaysia, there is similarly huge appetite for such news involving local personalities. This is best exemplified by the latest case involving celebrity Muslim preacher Ebit Lew (full name Ebit Irawan Ibrahim Lew).
Ebit Lew is alleged to have sexually harassed a foreign woman in a video entitled "The Mondy Tattoo Interview" that has been making the rounds on social media.
In the video, the woman (main pic, left) claimed that she was a victim of sexual harassment by a famous independent preacher from Malaysia when she first arrived in the country this year.
Ebit Lew has responded by lodging a police report (main pic, right) on Wednesday (Sep 18) on the alleged slanderous video. In an Instagram post, he said a police report was lodged as soon as he arrived from Jeddah, Saudi Arabia at about midnight.
"Bismillah. I just arrived from Jeddah at 12 midnight last night and straight to the police station to make a report about the extreme slander that are completely baseless against me," claims the preacher formerly known as Lew Yun Pau.
Ebit Lew's reputation had already taken a hit with allegations of inappropriate behaviour in a separate on-going trial. The 38-yar old preacher is facing 11 charges that include insulting the modesty of a woman in her 40s by sending obscene words and pictures to the victim's phone number via the WhatsApp application between March and June 2021.
The charge under Section 509 of the Penal Code carries a maximum sentence of five years imprisonment, a fine or both upon conviction. The trial is set to continue from Sept 26 to 29 this year.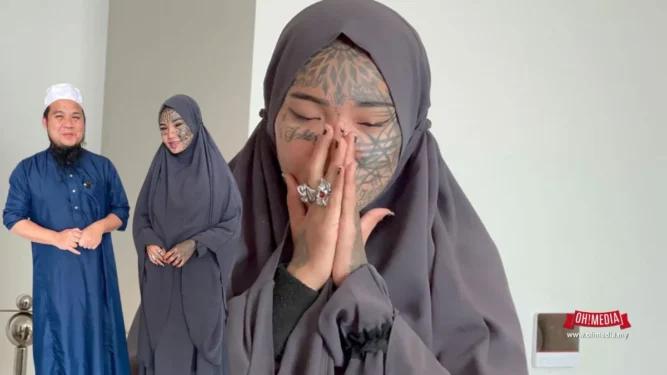 Don't use social media as complaint channel
In the latest allegations involving the video of a heavily-tattooed woman being interviewed, Selangor deputy police chief Datuk S. Sasikala Devi said police had received further orders to investigate the case.
Local rapper Caprice (full name Azri Ramli) and an Indonesian lady have been called up to assist with investigations.
The question is why didn't the victim (or anyone else for that matter) lodge a police report if they had information or evidence to back up claims of sexual misconduct by the preacher? Using social media platform to spread such allegations is both dangerous and damaging.
It is a truism that if enough mud is thrown, some of it will stick. Given netizens apparent appetite for these allegations – whether true or false – Ebit Lew's credentials as a holy man will have been affected. The 'Mondy Tattoo Interview' video (Part 1 of 3) has at the time of writing been viewed over 320,000 times.
This is not to make light of the allegations which are serious in all the cases above but it is advised that such allegations are made via proper and legal channels to allow justice to take its course.
Social media should not be used as a court of public opinion, especially when the allegations have the potential to besmirch carefully a cultivated reputation and completely ruin lives. – Sept 20, 2023