THE actions of a group of Malay riders who ganged up and risked their lives to rescue a Chinese man who was kidnapped in Ampang, Selangor, recently, have earned the praise of the Royal Malaysian Police Force (PDRM).
In a since-viral 2-minute-11-second video, a group of five men were seen forcing a shirtless man into a white Toyota Vellfire against his will. 
The video, which captured the kidnapping attempt on a busy street, was recorded from a bystander's point of view. A Hong Leong bank branch can be seen in the background.
The scene changes halfway through the video, and the person who recorded the video is now on a motorcycle in pursuit of the Vellfire on a highway and shouting at the driver. 
The rider joins a group of motorcyclists whisking in and out of traffic to chase the vehicle and try to get it to stop.
In the caption of the video posted on Facebook by one "Najib Razak Must Go", the user wrote: "This is the real semangat #KeluargaMalaysia where Malaysians help one another without seeing skin colour."
"Hope the culprits can be found and punished severely," they added. 
As of press time, the video has amassed over 45,000 views and hundreds of comments.
In a statement, Ampang Jaya district police chief ACP Mohamad Farouk Eshak said they received a call at around 5:30pm on Thursday (Sept 29) about the incident, which took place outside a restaurant on Jalan Pandan Indah 1/23D.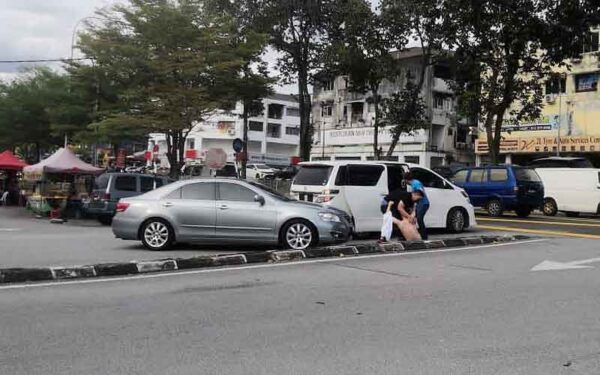 "Eating alone at a restaurant"
Investigations revealed that the victim, a 38-year-old businessman, was eating alone at the restaurant when a group, suspected to be locals, turned up and started dragging him to their car.
Despite screaming and trying to escape their clutches, his efforts were in vain and he was taken in their Vellfire.
At around 10:45pm, the victim showed up at the Ampang Jaya district police headquarters after being let go, believed to be in Klang, Selangor.
"There were a few injuries on his leg and face as a result of the incident and (he) has received treatment at Ampang Hospital," said Farouk.
He added that the scuffle is believed to have taken place as a result of the victim's debts to his employers.
The case is being investigated under Section 365 of the Penal Code for kidnapping or abduction with intent to wrongfully confine someone, which provides for a maximum seven-year jail term and fine upon conviction.
Efforts to nab the suspects, who have been identified, are ongoing.
"The police convey their thanks to members of the public who tried to help in this incident," said Farouk.
"We also advise the public against taking loans from unlicensed parties," he added. – Oct 1, 2022