GRIPING over the rising cost of living, former prime minister (PM) Tan Sri Muhyiddin Yassin has come out with perhaps an "economically-sound" solution.
And he even proudly went about declaring it "loudly" at the Negri Sembilan Perikatan Nasional (PN) election machinery launching ceremony on Sunday (July 9) night that he has found the Eureka solution.
In an article, Sinar Daily quoted the Bersatu president as saying that "he had started rearing chickens in his garden for his own consumption to solve the problem of egg supply in the market".
To be fair to Muhyiddin, one has to look at two angles assuming that Sinar Harian had reported this wrongly and it was a small farm (kebun) that Muhyiddin meant.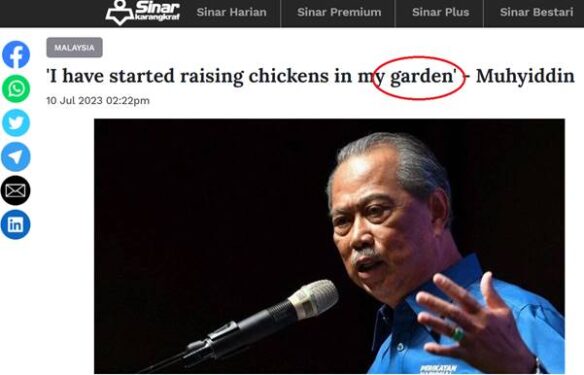 While the PN chairman was trying to ride on the wave of #KitaJagaKita which was whipped up by the neglected rakyat during his premiership of 18 months, Muhyiddin knows well that this is not a viable solution to say the least, yet still used it as his campaign material.
Firstly, if the Pagoh MP had meant the 'garden' in his home, the posh Damansara Heights where he lives in would be one stinking neighbourhood with chicken poop.
Unless Muhyiddin enjoys special privileges as a former premier, he could be issued a summons even if the crowing of the cocks every morning or worse, the cluck, cluck, cluck of his chickens throughout the day could be considered a "nuisance" to his neighbourhood under the Local Government Act 1976 Article 73(1)(a)(iv).
The Kuala Lumpur City Hall (DBKL) would be the first to raise the alarm as 40 chickens is no small farm in Damansara Heights.
Under the Country and Town Planning Act 1976 Section 18 (1), "no person shall use or permit to be used any land or building otherwise than in conformity with the local plan"; otherwise, under Section 26 (1) of the same Act, Muhyiddin could be fined up to RM500,000 or to imprisonment for a term not exceeding two years or both.
Perhaps, when Muhyiddin becomes the next PM again, all these bylaws can be relaxed to allow under-utilised compounds in big bungalows to be turned into urban farms or even people living in low-cost flats and other housing estates be allowed to raise their own poultry.
One can only dream of turning Malaysia into a net exporter of chicken and eggs when his vision materialises. Just for the mischief, who knows, perhaps Muhyiddin may even earn the title of "King of Chickens and Eggs"?
Alternatively, even if Muhyiddin had meant he raised 40 chicken in his farmland, not everyone has the privilege of owning even a farm where these poultry can be reared to lay eggs.
The people who need to rear these chickens for both the meat and the eggs live in low-cost flats which are often big enough for a small family. Someone had suggested that to rear the chickens in these flats, these birds would have to be placed in the toilet, and if there is no space to walk about, these birds would have to be placed in the coop above one's head.
Whatever it is, Muhyiddin knows that his solution is anything but sensible to even mention during an election campaign. It certainly raises the question how much knowledge of economics he had amassed while pursuing his Bachelor of Arts (BA) in Economics and Malay studies at the University of Malaya in 1971.
Just to work out the math, if every day his chickens are producing 40 eggs as he claims, in a month, his 'garden' or 'farm' would be producing 1,200 eggs – and one can only wonder what he is doing with these eggs.
Perhaps, he could have turned them into some nutritious meals for the street people and the B40 community once every month but has he? – July 11, 2023