Letter to Editor
THE rumour mill has been in overdrive ever since it was revealed that Deputy Prime Minister Datuk Seri Zahid Hamidi had undergone surgery on Nov 16.
That his daughter Nurulhidayah Zahid failed to specify the nature of her father's ailment apart from stating on Instagram that he is recovering well has further stoked rumours that Zahid's political career is coming to an end.
View this post on Instagram
That Zahid is seen as master key to the Madani government's survival means that his recuperation is being closely watched by all sides of the political arena.
Given the unpopularity of the current unity government, it would be no great shock if UMNO decides to walk out of the coalition should Zahid call it a day.
A widely tipped scenario is for UMNO – alongside GPS (Gabugan Parti Sarawak) and GRS (Gabungan Rakyat Sabah) – to abandon ship and form new strategic alliance with Bersatu-PAS, giving the new Perikatan Nasional (PN) bloc a far more solid foundation in parliament.
The speculation has risen several notches when UMNO deputy president-cum-Defence Minister Datuk Seri Mohamad Hasan (affably known as Tok Mat) was seen openly mingling with political foes from Bersatu and PAS at an event on Saturday (Nov 18) to mark the nomination day for the Kemaman by-election scheduled for Dec 2.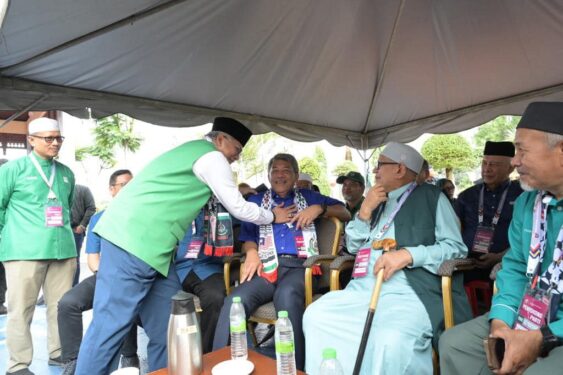 Should Zahid step down as UMNO supremo, party elections could be held thus paving the way for the return of Tok Mat's ministerial predecessor Datuk Seri Hishammuddin Hussein who has been suspended from the party for six years or even Prime Minister Datuk Seri Anwar Ibrahim's very own predecessor Datuk Seri Ismail Sabri Yaakob who has been pushed out into the cold by Zahid himself.
Adding fuel to the fire was MIC deputy president, Datuk Seri M. Sarvanan who proclaimed to a crowd of 1,500 party delegates on Saturday (Nov 18): "We support the government of the day as the King has decreed. We are very clear that we will not ask for positions in the government but we want recognition."
The Tapah MP and former human resources minster further stated sternly: "If we don't get due respect, the party leadership will announce our next course of action."
The MIC had openly supported the leadership of eighth premier Tan Sri Muhyiddin Yassin and later on Ismail Sabri but decided to toe the official line in supporting the formation of a unity government in the spirit of Barisan Nasional (BN) despite not being duly rewarded.
PMX's increasingly tenuous grip on power seems to be largely dependent on Zahid playing an active role in politics. But given the fluidity of Malaysian politics, it would not at all be surprising to see Anwar's increasingly unpopular administration crumble way before it fulfils its tenure. – Nov 20, 2023
Disillusioned PH Supporter
Puchong
The views expressed are solely of the author and do not necessarily reflect those of Focus Malaysia.