A VETERAN unionist urged the Government to focus on providing the first shot of COVID-19 vaccines everyone, instead of shifting gears to the second dose.
"The logic is simple. There are many people out there who have yet to receive even their first dose due to the slow vaccination programme.
"For example, teachers in school have been vaccinated but we have yet to inoculate security guards, cleaners and other non-teaching staff," UNI-Malaysia Labour Centre (UNI-MLC) president Datuk Mohamed Shafie BP Mammal told FocusM.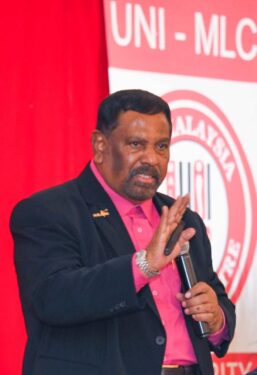 Last week, The Edge reported that Malaysia's daily COVID-19 vaccination rate exceeded 400,000 doses for two straight days, with 424,541 doses administered on July 13, up from 421,479 doses previously.
Of the 424,541 doses of vaccines given out, 260,286 went to first-dose recipients, while the remainder went to 164,255 second-dose recipients, according to tweets by the COVID-19 Vaccine Supply Access Guarantee Special Committee (JKJAV), citing data from the COVID-19 Immunisation Task Force (CITF).
Elaborating, Shafie said that workers from many crucial sectors such as retail and manufacturing are yet to be vaccinated, which may endanger the public should the Government decide to reopen the sectors prematurely.
"What about our garbage collectors? Did anyone think of them? They also move around and mingle with people. Why discriminate them?
"And don't forget restaurant workers as well. They are also frontliners," he opined.
SOP breach happening
Shafie then reminded the Government that the country was at "war" with COVID-19, adding the vaccination process must be hastened and cover as many people as possible.
"Focus on getting everyone the first shot. We need to protect as many people as possible from this disease.
"The more we delay, the more people will die. People are 'hungry' for the vaccines and we need to pull all our resources to help them," he stated.
On related matter, Shafie urged the Health Ministry (MOH) probe retail outlets, claiming that some businessmen were operating despite having detected COVID-19 cases at their premises.
"We have come across cases where the retail outlet's staff are diagnosed with COVID-19 but they still continue operating without adhering to standard operating procedure (SOP).
"I understand our authorities are stretched but we need to do more to enforce SOP compliance on business operators before we end up having more COVID-19 cases on our hands," he remarked. – July 22, 2021.