WITH the Malaysian Employers Federation (MEF) suggesting that employees working from home (WFH) should take a pay cut, a unionist criticised the former for being selfish.  
"In the last two years of the pandemic, workers cooperated with their employers and didn't complain when they got their salaries slashed. 
"They also didn't demand for neither an increment nor bonus because they understood times were tough across the board and continued working as usual from home.  
"Now, the economy is seeing signs of recovery and MEF is talking about slashing salaries of employees who have adopted WFH culture. The employers' group have gone mad and are unable to use their brains," Union Network International-Malaysia Labour Centre (UNI-MLC) president Datuk Mohamed Shafie BP Mammal told FocusM.  
Two days ago, MEF executive director Datuk Shamsuddin Bardan said that workers who choose the WFH policy should get a pay cut between 10% and 12%.  
"We have to consider that some companies provide transport allowance to their employees. So, if they choose WFH, we should consider that as a factor to reduce their pay. 
"And a lot of employers are no longer keen on WFH or even the hybrid model," Astro Awani reported him as saying.  
However, Shamsuddin's views were panned by politicians and corporate leaders alike, with former BCorp CEO Abdul Jalil Abdul Rasheed calling the MEF an embarrassment and not forward-thinking.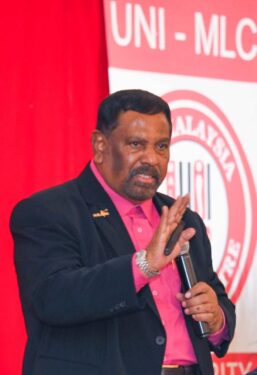 Touching on the matter, Shafie said that Shamsuddin's call would not help in fostering better ties between employers and employees, which has improved in the last two years as both sides worked hand-in-hand to mitigate the economic crisis triggered by COVID-19. 
"After making sacrifices for their employers, MEF now wants to punish workers. Bear in mind that employees were not holidaying but they took work back home.  
"And if the Labour Department went around checking the houses of those who adopted WFH culture then, they would find them working in an inconducive environment.  
"From my own checks alone, a lot of them didn't even have proper tables and chairs and were seated on the floor. Yet, they did their best for the employers without affecting productivity," he mentioned.  
Dock salaries of CEOs, directors  
Training his guns against the MEF, Shafie said that if the employers' group really wanted to cut salaries, they should start with their CEOs and board of directors.  
"In my view, they were the ones who were underperforming during the movement control order (MCO), not ordinary workers.  
"Anyway, how are they proposing to cut their workers' salaries? They can be in breach of Employment Act if they meddle with the remuneration of those earning RM2,000 and below," he reminded.  
On that note, Shafie said employers should instead increase their workers' salaries by 10% due to the sacrifices made over the years. 
"Besides, those adopting WFH are incurring higher utility bills in the form of electricity. They are also using their own Internet services. So, they deserve a higher pay," he remarked. – April 26, 2022
Main photo credit: Astro Awani