IN helping to solidify Malaysia's position as a world badminton powerhouse, Daikin Malaysia is spearheading the Daikin International Badminton Championship 2023 which will be taking place from March 6 to 9 at the Sunsuria Pioneer Badminton Centre in Kota Damansara.
The event is organised by Pioneer Sports Management, a renowned badminton events specialist helmed by former national shuttlers including Wong Choong Hann, the current coaching director for the Malaysia national badminton team, Chew Choon Eng, Lee Wan Wah and Chan Chong Ming.
Featuring six categories with different age groups within each category, the Championship has already drawn 1,500 entries. These categories included Boys' Singles, Girls' Singles, Boys' Doubles, Girls' Doubles, Mixed Doubles and Parent & Child.
Registration for the Championship is now closed due to the overwhelming response.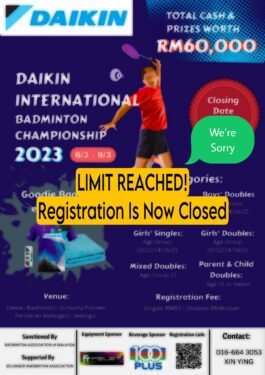 "Daikin International Badminton Championship is an excellent way to support the community and promote a healthy and active lifestyle," commented Daikin Malaysia Sales & Service Sdn Bhd managing director Lawrence Song Yew Beng.
"The Championship also provides an opportunity to contribute to the development of the next generation of athletes and to ensure that Malaysia remains a powerful force in badminton for generations to come."
Meanwhile, Pioneer Sports Management's director Chan Chong Ming is appreciative of the trust and confidence placed by Daikin Malaysia in the former to organise the major badminton tournament for the fourth time.
"We believe that Daikin International Badminton Championship can provide an opportunity to identify and nurture talent at an early stage," noted the former World No. 1. "Starting young is the key towards unlocking the full potential of our home-grown talent to compete and excel on the global stage."
The Daikin Badminton Championship 2023 is sanctioned by the Badminton Association of Malaysia (BAM) and supported by the Selangor Badminton Association. Fleet is the equipment sponsor of the event while 100 Plus is the beverage sponsor.  – March 6, 2023